Glued IOL surgery performed to treat Glaucoma and Cataract together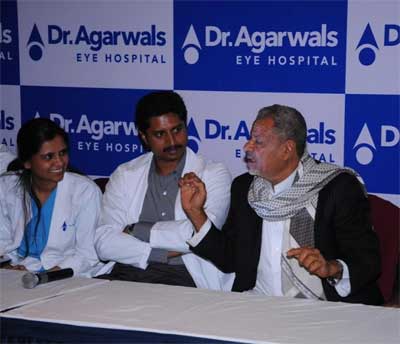 Bengaluru, June 20, 2017: Suffering from one ailment itself is draining, then imagine multiple complications. That was the case of 75 year old Mr. Qasem Abbdulbari Abdul Kareem who has been successfully treated by the doctors at Dr. Agarwal's Eye Hospital. Mr. Qasem Abbdulbari Abdul Kareem who hails from Yemen was suffering from a damaged and subluxated natural lens along with an injury to iris. He was also diagnosed with cataract and glaucoma.

The life of Mr. Qasem Abbdulbari Abdul Kareem took an unfortunate turn 12 months ago when he sustained a stone injury on his left eye following a scuffle. When he visited the local doctors in Yemen, it was examined that his natural eye lens and iris were damaged. He was also diagnosed with cataract. It did not end there. Owning to the injury, his eyes had started developing Glaucoma (High pressure in the eye). While he was given medication for Glaucoma, his injury and cataract was left untreated as there was not enough support in the eye to fix the artificial (Intra Ocular Lens) lens. This led to Qasem gradually losing his vision. In fact, within 9 months of the injury his vision was reduced to a finger counting close to face. That is, he could not see anything beyond one foot.

The search for advanced treatment led Qasem and family to Dr. Agarwal's Eye Hospital in Bangalore. After a detailed examination, Dr. Bindiya Hapani and team advised performing Glued IOL Surgery. Glued IOL is an advanced treatment technique invented by Dr. Amar Agarwal, Chairman & MD, Dr. Agarwal's Group of Eye Hospital. Through Glued IOL the doctors have not only been able to replace the damaged lens, the surgery has also helped in curing Qasem of Glaucoma. Today, Qasem is not only able to see objects as far as 10 feet, he is able to lead a near normal life.

Elaborating on the case, Dr. Bindiya Hapani, Cataract surgeon and Medical Retina Expert, Dr. Agarwal's Eye Hospital, said, "Four different eye complications at the same time is a rare occurrence in itself and in the case of Qasem, it was more challenging because he was living with the condition for over a year. The intervention called for a planned approach. Firstly we removed the subluxated cataractous lens and the intra ocular lens was fixed though a unique technique called "Glued IOL". Then we addressed the iris, repaired the damage and restored his lost vision."

"The patient has been responding well. As Glued IOL uses biological glue the chances of a reversion are nil." added Dr. Ashraya Nayaka T E, Consultant Vitreoretinal Surgeon, Dr. Agarwal's Eye Hospitals

Glued IOL is an innovative technique that involves fixing an Intra-ocular lens (IOL) into the eye using biological (fibrin) glue. The technique has made possible stable IOL implantation in eyes where previously IOL implantation was considered very difficult or fraught with complications. An advanced treatment modality it can be applied to different scenarios and also can be used as a part of combined surgeries. It can be performed with foldable IOL as well making it a totally sutureless procedure. Multifocal IOLs can also be implanted using the Glued IOL technique and this provides the advantage of spectacle independency after cataract surgery even in patients with anticipated complication eyes. It has also been used as part of Anterior Segment Eye Transplantation wherein the entire front half of the eye is malformed. It can be used in cases with deformed anterior segment as well. In this case, the Glued IOL was used to fix the new intra ocular lens.

Sharing his joy, Mr. Qasem Abbdulbari Abdul Kareem (the patient), said "Last 12 months have been trying both emotionally and physically. I had lost hope until I met doctors at Dr. Agarwal's Eye Hospital. I am thankful to them for helping me regain my vision. Each of the consultants in the team was very patient with us, they explained the condition and treatment in detail and this helped us to overcome our anxieties. I am glad that I can now live and independent retired life."

The case of 75 year old Qasem is not only a testimony of Glued IOL's effectiveness; it also presents a ray of hope for many who suffer from trauma lead multiple eye complications.