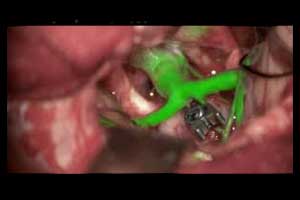 The US Food and Drug Administration (FDA) has cleared a  new imaging modality augmented reality (AR) GLOW800 surgical fluorescence for vascular neurosurgery. In combination with ICG (Indocyanine Green), GLOW800 allows surgeons to observe cerebral anatomy in natural colour, augmented by real-time vascular flow in a single image, with full depth perception.
This new imaging modality provides the surgeon with a complete view of anatomy and physiology to support crucial decisions and actions during vascular neurosurgery.
"For the past decade Leica Microsystems has been pioneering new fluorescence imaging technologies in partnership with surgeons to advance surgical practices," says Markus Lusser, President of Leica Microsystems. "GLOW800 and future modalities based on the GLOW AR platform will allow surgeons to perform life-changing neurosurgical interventions with the confidence that they have the best possible visual information right in the field of view."
GLOW800 AR fluorescence is the first of many imaging modalities that will be based on the GLOW AR platform from Leica Microsystems. GLOW AR modalities can be fully integrated in the ARveo digital augmented reality microscope which launched earlier this year. Following the FDA 510(k) clearance of GLOW800, ARveo customers in the US can now experience the full advantages of augmented reality visualization in the operating room.
"Leica Microsystems is a company that works closely with neurosurgeons to bring new technologies to the market that really respond to our needs," says Cleopatra Charalampaki, Professor of Neurosurgery, Cologne Medical Center, Germany. "GLOW800 AR is an exciting new approach which provides a totally new view during vascular neurosurgery. I have excellent spatial orientation and I am impressed with the crisp delineation of vessels. I believe GLOW800 AR fluorescence will have a significant impact on surgical outcomes in the future."
The following two tabs change content below.
Hine Zahid Joined Medical Dialogue in 2017 with a passion to work as a Reporter. She covers all the stories related to Medical guidelines, Medical Journals, rare medical surgeries as well as all the updates in the medical field. Email: hina@medicaldialogues.in. Contact no. 011-43720751