Gestational diabetes increases risk of heart disease in baby ,Study finds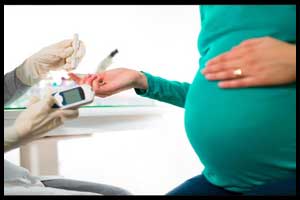 Diabetes during pregnancy known as gestational diabetes may increase the risk of heart disease and blood vessel dysfunction in the offspring through alteration of a smooth muscle protein required for the formation of blood vessel network, according to a new study.
Researchers of the study, published in the American Journal of Physiology-Cell Physiology, further comments that understanding function of the protein may improve early disease detection in children.
Laura S. Haneline, 6Pediatrics, Indiana University School of Medicine, United States, and colleagues, conducted the study to evaluate whether transgelin (TAGLN), which is increased in GDM-exposed ECFCs (endothelial colony forming cells), contributes to vasculogenic dysfunction.
Gestational diabetes mellitus (GDM) is a state of persistent high blood sugar in pregnant women. If not controlled, GDM can result in high blood pressure during pregnancy or stillbirth or premature birth.
Previous research has demonstrated that levels of a protein called transgelin are increased in offspring of women with GDM. The protein is found in the ECFCs lining the blood vessels walls. Transgelin regulates cell migration, a process involved in wound healing and building blood vessel networks. A baby's umbilical cord blood is rich in ECFCs; dysfunction of these cells that occurs in the womb may play a role in long-term blood vessel health and increase the risk of children developing heart disease later in life.
Read Also: New study reveals adverse impact of both type 2 and type 1 diabetes on pregnancy outcomes
The investigators hypothesized that increased TAGLN expression in GDM-exposed fetal ECFCs decreases network formation by impairing cytoskeletal rearrangement resulting in reduced cell migration.
For the study, cord blood samples taken at the time of birth from women with GDM were compared to a control group without pregnancy complications. Cord blood ECFCs do not typically contain high levels of transgelin. However, the samples taken from the umbilical cord blood of the group showed higher protein levels and increased dysfunction of the blood vessels during formation. Decreasing transgelin in the diabetes-exposed cells "significantly improved initial [blood vessel] network formation, ongoing network stabilization, and cell migration," wrote the researcher's team.
"The data suggest that increased TAGLN likely contributes to the vasculogenic dysfunction observed in GDM-exposed ECFCs, as it impairs ECFC migration, cell alignment, and network formation. Identifying the molecular mechanisms underlying fetal ECFC dysfunction following GDM exposure is key to ascertain mechanistically the basis for cardiovascular disease predisposition later in life," concluded the authors.
For further information log on to
http://dx.doi.org/10.1152/ajpcell.00137.2018
Source : With inputs from American Journal of Physiology