Genital Ulcer Disease- Standard Treatment Guidelines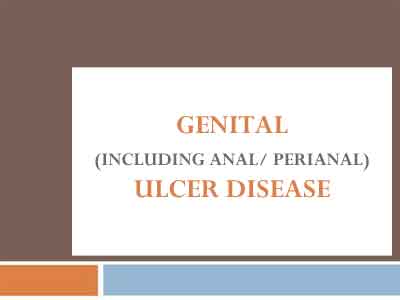 Ministry of Health and Family Welfare, Government of India has issued the Standard Treatment Guidelines for Genital (Including Anal/Perianal) Ulcer Disease[Gud].
Following are the major recommendations :
The causes of sexually transmitted ulcers are:


Genital herpes


Syphilis


Chancroid


Lymphogranuloma Venereum


Donovanosis


GUD especially with HSV, syphilis, and chancroid have been associated with an increased risk for HIV transmission,
INCIDENCE OF THE CONDITION IN OUR COUNTRY
Institutional data on prevalence and incidence not available. The frequency of each cause differs by geographic area and population. Genital herpes is the most prevalent of these. More than one etiologic agent can be present in an ulcer. The clinical diagnosis of GUD is undermined when HIV infection is present. Diagnosis based on clinical impression may not always be correct. The etiology of GUD according to M-PCR was reported to be HSV in 26%, chancroid in 23%, primary syphilis in 10%, and multiple infections in 7% cases1 . Also, HIV seroprevalence is significantly higher in patients with HSV compared with other etiologies presumably because of HIV-induced immunosuppression and consequent HSV reactivation. All this calls for syndromic management of genital ulcers especially in the setting of HIV.
DIFFERENTIAL DIAGNOSIS
Non sexually transmitted genital ulcers include:


Yeast


Trauma


Carcinoma


Aphthae and Behcet's


Fixed drug eruption


Psoriasis


PREVENTION AND COUNSELINGGeneral measures as applicable to all patients with suspected STIs


Educate and counsel patient and sex partner(s) regarding RTIs/STIs, genital cancers, safer sex practices and importance of taking complete treatment.


Treat partner(s) for the suspected organisms.


Advise sexual abstinence during the course of treatment to minimize transmission.


Promote the use of barrier contraception like condoms, educate about correct and consistent use.


Refer for voluntary counseling and testing for HIV, Syphilis and Hepatitis B.


Consider immunization against Hepatitis B.


Schedule return visit after 7 days to ensure treatment compliance as well as to see reports of tests done.


If symptoms persist, assess whether it is due to treatment failure or reinfection and advise prompt referral.


OPTIMAL DIAGNOSTIC CRITERIA, INVESTIGATIONS, TREATMENT & REFERRAL CRITERIA
Situation 1: At Secondary Hospital/ Non-Metro situation: Optimal Standards of Treatment in Situations where technology and resources are limited
Clinical Diagnosis


Clinical examination of the genital area to confirm the presence of ulcers.


Ulcers to be examined for location, number (single, multiple), superficial (erosions) or deep, edge (undermined/punched out), margins regular/irregular) and floor (presence of exudates, slough/granulation tissue). Palpation of ulcers for tenderness, induration of the floor and edges or bleeding on maneuvering.


Palpation of inguinal region for lymph nodes in terms of tenderness, increased warmth, superficial or deep, discrete or matted, free mobility or fixity to deeper structures, consistency (firm or soft) and fluctuance.


Investigations


Standard tests for all patients with genital ulcer


Testing for HIV: on all persons with genital, anal, or perianal ulcers who are not known to have HIV infection.


Serologic tests for syphilis.


Smear from the base of ulcer, Gram stained (for chancroid) and Giemsa stained (for herpes and donovanosis).


Biopsy at times- for unusual causes or those that do not respond to initial therapy.


Type-specific serologic tests for HSV: useful to identify pregnant women at risk for HSV infection and to guide counseling regarding the risk for acquiring genital herpes during pregnancy. To be offered to uninfected women whose sex partner has HSV infection.


Treatment


Treat patients before test results are available.


Empirically treat for the diagnosis considered most likely on the basis of clinical presentation and epidemiologic circumstances (including travel history) as even after extensive investigations, at least 25% of patients will have no laboratory-confirmed diagnosis.


Standard Operating procedure
On the basis of clinical examination and investigations, decide whether the ulcers are
herpetic or non-herpetic


If vesicles or multiple painful ulcers are present


Treat for herpes


Tab. Acyclovir 400mg orally, three times a day for 7-10 d


OR


Tab Acyclovir 200mg five times a day for 7-10 d


OR


Tab Famciclovir 250mg three times a day for 7-10 d


OR


Tab Valacyclovir 1 g twice a day for 7-10 d




Initiation of therapy within 1 day of lesion onset or during the prodrome.


Patient to be provided with a supply of drug or a prescription with instructions to initiate treatment immediately when symptoms begin.


Suppressive therapy in select cases.


If vesicles are not seen and only ulcer is seen
Treat for
syphilis
and
chancroid
and counsel on herpes genitalis
To cover syphilis


Inj Benzathine penicillin 2.4 million IU IM after test dose in two divided doses (with emergency tray ready).


In individuals allergic or intolerant to penicillin Tab Doxycycline 100mg orally, twice daily for 14 days.


PlusTo cover chancroid


Tab Azithromycin 1g orally single dose


OR


Inj. Ceftriaxone 250 mg IM single dose


OR


Tab. Ciprofloxacin 500mg orally, twice a day for three days


Treatment should be extended beyond 7 days if ulcers have not reepithelialised.
Suppressive Therapy for Recurrent Genital Herpes


Reduces the frequency of genital herpes recurrence by 70%–80%, improves quality of life.


Also effective in patients with less frequent recurrences.


Safety and efficacy documented with acyclovir for as long as 6 years and with valacyclovir or famciclovir for 1 year.


The frequency of recurrent outbreaks diminishes with time. Also, the patient's psychological adjustment to the disease might change. Therefore, during suppressive treatment (e.g., once a year), re-discuss the need to continue therapy.


Acyclovir treatment late in pregnancy reduces the frequency of cesarean sections among women who have recurrent genital herpes by diminishing the frequency of recurrences at term.


Drugs recommended: for as long as required.


- Tab Acyclovir 400mg BD
- Famiciclovir 250 mg orally twice a day
- Valacyclovir 500 mg orally once a day
- Valacyclovir 1g orally once a day
Counselling of persons with genital HSV infection:


Educate concerning the natural history, potential for recurrent episodes, asymptomatic viral shedding, and risk of sexual transmission.


Advise that suppressive therapy is available for preventing symptomatic recurrent episodes.


Episodic therapy to shorten the duration of episodes.


Encourage to inform current and future partners.


Remain abstinent from sexual activity with uninfected partners when lesions or prodromal symptoms are present.


Male latex condoms, used consistently and correctly, might reduce the risk of transmission.


Sex partners to be advised that they might be infected even if they have no symptoms. Type-specific serologic testing of the asymptomatic partners recommended to determine whether they are already HSV seropositive or are at risk for acquiring HSV.


The risk for neonatal HSV infection should be explained to all persons, males and females. Increased risk if infection acquired for the first time near delivery.


Pregnant women and women of childbearing age with genital herpes encouraged to inform their health care providers during pregnancy and those who will care for their newborn infant about their infection (risk of neonatal herpes is high).


Pregnant women who are not known to be infected with HSV-2 should be advised to abstain from intercourse with men who have genital herpes during the third trimester of pregnancy.


Asymptomatic persons diagnosed with serologic evidence of HSV-2 should receive the same counseling messages as persons with symptomatic infection.


Syndrome specific guidelines for partner management


Treat all partners who are in contact with client in last 3 months.


Partners should be treated for syphilis and chancroid.


Advise sexual abstinence during the course of treatment.


Provide condoms, educate about correct and consistent use.


Refer for voluntary counseling and testing for HIV, Syphilis and Hepatitis B.


Schedule return visit after 7 days.


Management of HIV infected patients


To be monitored closely. More likely to experience treatment failure and heal slowly.


Might require repeated or longer courses of therapy.


Treatment failures can occur with any regimen.


Ceftriaxone and Azithromycin based regimens used only if follow-up can be ensured.


Management of Pregnant Women


Quinolones (like ofloxacin, ciprofloxacin), doxycycline, sulfonamides are contraindicated in pregnant women.


Pregnant women with positive RPR- consider infected unless adequate treatment is documented in records and sequential serologic antibody titres have declined.


Pregnant women with primary, secondary, or latent syphilis: Two doses of Inj Benzathine penicillin 2.4 million IU IM after test dose (with emergency tray ready) at 1 week interval.


Pregnant women who are allergic to penicillin:




Tab. Erythromycin 500mg orally four times a day for 15 days (Erythromycin estolate contraindicated in pregnancy).


Neonate to be treated for syphilis after delivery.




All pregnant women should be asked history of genital herpes and examined carefully for herpetic lesions.




Women without symptoms or signs of genital herpes or its prodrome can deliver vaginally.


Women with genital herpetic lesions at the onset of labour- delivered by caesarean section to prevent neonatal herpes.


Acyclovir may be administered orally to pregnant women with first episode genital herpes or severe recurrent herpes. Considered a safe drug.


Neonatal Herpes


Infants exposed to HSV during birth should be followed carefully in consultation with a pediatric infectious disease specialist.


Intravenous acyclovir considered for infants born to women who acquired HSV near term (as the risk for neonatal herpes is high for these infants).


Intravenous acyclovir promptly started for infants who have neonatal herpes.


The recommended regimen for infants treated for known or suspected neonatal herpes is acyclovir 20 mg/kg IV every 8 hours for 21 days for disseminated and CNS disease or for 14 days for disease limited to the skin and mucous membranes.


Referral criteriaRefer to higher centre


Cases of genital ulcer not responding to the above treatment protocols.


Neonatal herpes if adequate monitoring and expertise not available.


Situation 2: At Super Specialty Facility in Metro location where higher-end technology is available
Clinical Diagnosis
Same as above.
Investigations
Same as above.
In addition
Specific tests for evaluation of genital, anal, or perianal ulcers which may be available in this situation and which may be required for specific diagnosis in difficult cases


Darkfield microscopy (from ulcer fluid or lymph node aspirate) to look for motile treponemes. If available, should be done for all suspected patients with syphilis.


Culture for Haemophilus ducreyi: not widely available; even when used, sensitivity is <80%


Multiplex PCR: to detect various possible causes in a genital ulcer.


Surveillance cultures of mucosal surfaces (for HSV) might be considered for neonates possibly exposed to maternal herpes.


Donovanosis: visualization of dark-staining Donovan bodies on tissue crush preparation or biopsy.


Treatment
Same as above
In Addition
Severe HSV disease


Intravenous (IV) acyclovir therapy: for patients with severe HSV disease or complications that necessitate hospitalization (e.g., disseminated infection, pneumonitis, or hepatitis) or CNS complications (e.g., meningoencephalitis).


Recommended regime.




Inj Acyclovir 20 mg/kg IV every 8 hours for 2–7 days or until clinical improvement is observed, followed by oral antiviral therapy to complete at least 10 days of total therapy.




Dose adjustment for impaired renal function.


Referral criteriaNon- Responsive ulcers (to recommended treatment protocol)Causes of no improvement after 7 days follow up


incorrect diagnosis


coinfection with another STD


HIV infection


Non-compliance


Resistance to antimicrobial used


Other factors to be accounted for


Large size of ulcer


Slower healing in uncircumcised men


Presence of fluctuant lymphadenopathy- may need drainage


Donovanosis: typically slow healing. Recommended treatment is Tab Doxycycline 100 mg bd for at least three weeks or till lesions is healed.


Guidelines by The Ministry of Health and Family Welfare :
Dr. M.K. Daga
Department of Medicine
Maulana Azad Medical College
New Delhi