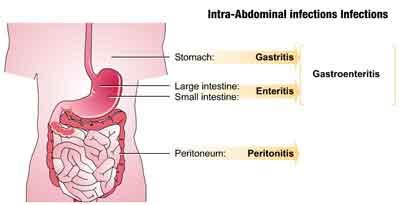 In 2016 National Centre For Disease Control, Directorate General of Health Services, Ministry of Health & Family Welfare, Government of India came out with National Treatment Guidelines for Antimicrobial Use in Infectious Diseases
Following are major recommendation
Gastrointestinal & Intra-Abdominal Infections : 
Condition
Likely Causative Organisms
Empiric (presumptive) antibiotics/First Line
Alternative antibiotics/Second Line
Comments
Acute

Gastroenteritis

Food poisoning

Viral,

Entero-toxigenic &

Entero-pathogenic

E. coli

S. aureus,

B. cereus,

C. botulinum

None
None
Rehydration (oral/IV) essential
Cholera
V.cholerae
Doxycycline 300mg Oral stat

Azithromycin Oral in children (20mg/kg) and pregnant women

(1g)

Azithromycin 1gm Oral stat or

Ciprofloxacin 500mg BD for 3 days

Rehydration

(oral/IV)

is essential

Antibiotics are adjunctive therapy.

Bacterial dysentery
Shigella sp., Campylobacter, Non- typhoidal salmonellosis
Ceftriaxone 2gm IV OD for 5 days or oral cefixime 10-15 mg/kg/day x 5 days
Azithromycin 1g OD x 3days
For Campylobacter the drug of choice is azithromycin.
 
Shiga toxin
Antibiotic Treatment
Antibiotic
 
producing E. coli
not recommended
use associated with development of hemolytic uremic syndrome.
Amoebic dysentery
E. histolytica
Metronidazole 400mg Oral TDS for 7-10 days
Tinidazole 2gm Oral OD for 3 days
Add diloxanide furoate 500 mg TDS for 10d
Giardiasis
Giardia lamblia
Metronidazole 250- 500mg oral

TID x 7-10 d

Tinidazole 2 gm oral x

1 dose

Enteric fever
S.Typhi,

S.Paratyphi A

Outpatients: Cefixime 20mg/kg/day for 14 days or Azithromycin 500 mg BD for 7 days. Inpatients: Ceftriaxone 2 g IV BDfor 2 weeks +/-Azithromycin 500 mg BD for 7 days
Cotrimoxazole 960 mg BD for 2 weeks
Majority of strains arenalidixic acid resistant.

Ceftriaxone to be changed to oral cefixime when patient is afebrile to finish total duration of 14days

Biliary tract infections (cholangitis, cholecystitis)
Enterobacteriaceae (E.coli, Klebsiella sp.)
Ceftriaxone 2gm IV OD or Piperacillin-

Tazobactam 4.5gm IV

8 hourly

or Cefoperazoe-

Sulbactam 3gm IV 12hourly For 7-10 days

Imipenem 500mg IV 6hourly

or

Meropenem 1gm IV 8hourly

For 7-10 days

Surgical or endoscopic intervention to be considered if there is biliary obstruction. High prevalence of ESBL producing E.coli, Klebsiella sp.strains. Deescalate therapy once antibiotic susceptibility is known.
Hospital acquired diarrhea
C. difficile
Metronidazole 400 mg oral TDSfor 10 days
Severe disease:start Vancomycin 250 mg oral 6h empirically.
Spontaneous bacterial Peritonitis
Enterobacteriaceae (E.coli, Klebsiella sp.)
Cefotaxime 1-2 gm IV TDS

or PiperacillinTazobactam 4.5gm IV 8 hourly

or CefoperazoneSulbactam 3gm IV 12h

Imipenem 500 mg IV 6hourly or

Meropenem 1gm IV 8hourly

Descalate to Ertapenem 1 gm IV OD for 5-7 days once the patient improves
Secondary peritonitis, Intra-abdominal abscess/ GI perforation
Enterobacteriaceae (E.coli, Klebsiella sp.), Bacteroides (colonic perforation), Anaerobes
Piperacillin-

Tazobactam 4.5gm IV 8 hourly

or

Cefoperazone-Sulbactam 3gm IV 12hourly in severe infections

In very sickpatients, if required, addition of cover for yeast (fluconazole iv 800 mg loading dose day 1, followed by 400 mg

Imipenem 1g IV 8hourly

or

Meropenem 1gm IV 8hourly

or

Doripenem 500 mg TDS or Ertapenem 1 gm IV OD

Source control is important to reduce bacterial load.

If excellent source control – for 5-7 days; other wise 2- 3 weeks suggested.

 
2 nd day onwards) & and for Enterococcus (vancomycin /teicoplanin) may be contemplated
Pancreatitis Mild- moderate
No antibiotics
Post necrotizing pancreatitis: infected pseudocyst; pancreatic abscess
Entrobacteriaceae, Enterococci, S. aureus, S. epidermidis, anaerobes, Candida sp.
Piperacillin-

Tazobactam 4.5 gm IV 8 hourly empirically or Cefoperazone-

Sulbactam 3gm IV 8 hourly in severe infections

In very sick patients, if required, addition of cover for yeast (fluconazole iv 800 mg loading dose day 1, followed by 400 mg 2 nd day onwards) & and for Enterococcus (vancomycin /teicoplanin) may be contemplated For 7-10 days

Imipenem-Cilastatin 500mg IV 6hourly

or

Meropenem 1gm IV 8hourly

or

Doripenem 500mg IV 8h

Duration of treatment is based on source control and clinical improvement
Diverticulitis Mild-

OPD treatment

Gram-Negative Bacteria Anaerobes
Amoxycillin-

Clavulanate 625mg TDS for 7 days

Ciprofloxacin + Metronidazole for 7 days
Diverticulitis moderate
Gram- Negative Bacteria Anaerobes
Ceftriaxone 2gm IV OD +metronidazole 500 mg IV TDS

or Piperacillin-Tazobactam 4.5 gm IV 8 hourly empirically or Cefoperazoe-

Sulbactam 3gm IV 8 hourly

BL-BLI agents have very good anaerobic cover, so no need to add metronidazole.
Diverticulitis Severe
Gram- Negative Bacteria Anaerobes
Meropenem 1gm IV 8hrly or Imipenem Cilastatin 500mg IV 6 hourly
Duration based on improvement
Liver Abscess
Polymicrobial
Amoxycillinclavulanate/ 3rd generation cephalosporin

+

Metronidazole 500mg I.V.TID / 800mg oral TID for 2 weeks

Piperacillin-Tazobactam IV
Ultrasound guided drainage indicated inlarge abscesses, signsof imminent rupture andno response to medicaltreatment
You can read the full Guideline by clicking on the following link :
http://www.ncdc.gov.in/writereaddata/linkimages/AMR_guideline7001495889.pdf