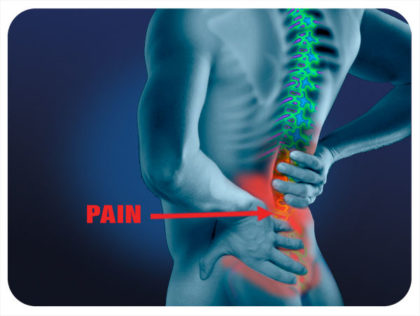 Anticonvulsant drugs increasingly being used to treat a low backache appear to be ineffective causing adverse effects, says a new study published in Canadian Medical Association Journal(CMAJ)
"Clinically, the prescription of anticonvulsants for back and neck pain, including radicular pain in primary care, has increased by 535% in the last 10 years," writes Dr. Oliver Enke, University of Sydney.
Low back pain affects millions of people and is the number one cause of disability. Clinical practice guidelines usually recommend nonpharmacologic treatments and nonopioid pain relievers rather than stronger analgesics such as anticonvulsants.
The use of anticonvulsants like gabapentin, pregabalin etc. to treat low back pain has increased abruptly in recent years despite the limited supporting evidence. Oliver Enke and his associates conducted a study to determine the efficacy and tolerability of anticonvulsants in the treatment of low back pain and lumbar radicular pain compared with placebo.
A systematic review and meta-analysis were conducted in 5 databases for studies comparing an anticonvulsant to placebo in patients with nonspecific low back pain, sciatica or neurogenic claudication of any duration. The outcomes were a self-reported pain, disability, and adverse events.
A total of 859 unique participants were included in the study and nine trials compared topiramate, gabapentin or pregabalin to placebo.
The analysis showed that fourteen of 15 comparisons found anticonvulsants were not effective to reduce pain or disability in low back pain or lumbar radicular pain; for example, there was high-quality evidence of no effect of gabapentinoids versus placebo on chronic low back pain in the short term or for lumbar radicular pain in the immediate term. The lack of efficacy is accompanied by increased risk of adverse events from use of gabapentinoids, for which the level of evidence is high.
Read Also: Adding Chiropractic to Usual Care Beneficial for Low Back Pain
These findings support recent guidelines from the United States and the United Kingdom that do not recommend the use of anticonvulsants.
The study concluded that there is moderate- to high-quality evidence that anticonvulsants are ineffective for treatment of low back pain or lumbar radicular pain. There is high-quality evidence that gabapentinoids have a higher risk of adverse events.
"We have shown, with mostly high- and moderate-quality evidence, that common anticonvulsants are ineffective for chronic low back pain and lumbar radicular pain, and are accompanied by increased risk of adverse events," write the authors.
For more reference log on to http://www.cmaj.ca/content/190/26/E786