................................ Advertisement ................................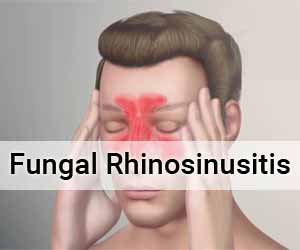 All India Institute of Medical Sciences, Delhi has released 2019 AIIMS  Antimicrobial Policy which has been prepared by the Department of Medicine with Multidisciplinary collaboration. The guidance for ENT Infections includes Fungal Rhinosinusitis the salient features of which are hereunder.
Fungal Rhinosinusitis is one of the most common types of fungal infections involving the inflammation of the lining mucosa of the paranasal sinuses.
Following are its major recommendations:
................................ Advertisement ................................
When to suspect:
................................ Advertisement ................................
Symptoms worsen/ fail to improve after initial antibiotic therapy even if after broadening coverage/switch to different antibiotic class

Severe rapidly progressive disease in immunocompromised, diabetic patients with ketoacidosis, transplant recipients, patients with hematologic malignancies, on chronic glucocorticoid or deferoxamine therapy- think Mucormycosis if black, necrotic eschars of the nasal cavity and turbinates, facial lesions, and exophytic or necrotic lesions of the hard palate.
How to confirm:
................................ Advertisement ................................
CT or MRI of the head or sinuses and

Biopsy with HPE/ KOH and culture:
i. Thin, hyaline septate hyphae, branched at acute angle-Aspergillus
ii. Broad, thick-walled, ribbon-like, aseptate hyphal elements that branch at right angles-Mucor.
Treatment:
a) Aspergillosis:
Preferred: Both surgery and systemic antifungal agents (Voriconazole/Liposomal AmB) are necessary. Voriconazole (6 mg/kg IV every 12 h for 1 d, followed by 4 mg/kg IV every 12 h; oral therapy can be used at 200–300mg BD)
Surgical removal alone can be used to treat Aspergillus fungal ball of the paranasal sinus.
Alternative: Liposomal AmB (3–5 mg/kg/day IV)
Special remarks:
Duration of therapy minimum 6-12 weeks

Primary combination therapy with antifungals is not routinely recommended

Therapeutic Drug Monitoring (TDM) should be done in patients receiving voriconazole (Range: 1-5 mg/L)
b) Mucormycosis:
Preferred: Both surgery and systemic antifungal agents are necessary.
Liposomal amphotericin B (at least 3-5mg/kg/day).

A lower dose can be used in cases of recalcitrant side effects for a minimum of 4 weeks

May be shifted to oral Posaconazole (800mg/day in 4 divided doses) after adequate amphotericin B.
Alternative: Amphotericin B deoxycholate (0.7-1mg/kg/day)
Special remarks:
Correction of the underlying cause

Duration of therapy not defined

Echinocandins can be combined with amphotericin B as salvage therapy

When shifting from amphotericin B to Posaconazole, one week of overlap may be beneficial

Posaconazole should be administered with fatty food and cola beverages

TDM for Posaconazole should be done if available.
References:
Chow AW, Benninger MS, Brook I, Brozek JL, Goldstein EJ, Hicks LA, Pankey GA, Selznick M, Volturo G, Wald ER, File TM Jr; Infectious Diseases Society of America. IDSA clinical practice guideline for acute bacterial rhinosinusitis in children and adults. Clin Infect Dis. 2012 Apr;54(8):e72-e112.

ICMR Treatment Guidelines for Antimicrobial Use in Common Syndromes. Upper Respiratory Tract Infections. 2017: 98-101
Author Details
Dr Kamal Kant Kohli-MBBS, DTCD- a chest specialist with more than 30 years of practice and a flair for writing clinical articles, Dr Kamal Kant Kohli joined Medical Dialogues as an Editor-in-Chief for the Speciality Medical Dialogues section. Besides writing articles, as an editor, he proofreads and verifies all the medical content published on Medical Dialogues including those coming from journals, studies,medical conferences,guidelines etc.
Before Joining Medical Dialogues, he has served at important positions in the medical industry in India including as the Hony. Secretary of the Delhi Medical Association as well as the chairman of Anti-Quackery Committee in Delhi and worked with other Medical Councils in India. Email: editorial@medicaldialogues.in. Contact no. 011-43720751
To know about our editorial team click here
................................ Advertisement ................................