From aorta to trachea: Feasibility of bioengineered tracheal and bronchial reconstruction using stented aortic matrices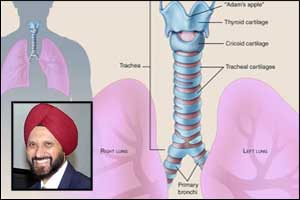 Dr Emmanuel Martinod and colleagues from Hospital Avicenne near Paris France have report the results of a prospective, single-institution safety and feasibility trial of airway replacement with aorta to reconstruct long-segment defects of the trachea and central bronchi. Over 6.5 years, 13 of 20 patients with end-stage tracheal lesions or proximal lung tumors requiring a pneumonectomy were enrolled in the study and underwent airway reconstruction with cryopreserved aortic allografts following definitive resection. Custom-made stents to support the allografts were used initially to prevent airway collapse but were removed at a postoperative mean duration of 18 months.
A single patient undergoing carinal transplantation died postoperatively. With a median follow-up of nearly 4 years, 76.9% (10 of 13) of patients were alive and 80% (8 of 10) were breathing normally. Surprisingly - histological and molecular analysis of follow-up endobronchial biopsies showed regeneration of respiratory epithelium and de novo generation of cartilage within the aortic allografts from recipient cells.
Till some time ago - resection of the proximal airways was found to be associated with a high surgical risk. Usually, just 5 cm of trachea could be safely resected with primary reanastomosis. Several surgeons, particularly the pioneer Dr Grillo at Massachusetts General Hospital, Dr Pearson at the University of Toronto, and Dr Perelman in Moscow, did develop techniques for safe resection of the trachea and main carina for various benign and malignant conditions rarely seen by most surgeons. Gradual improvements in imaging methods and anesthesia care also facilitated these operations. Resections of the proximal airways, however, were still considered technically challenging operations.
Patients requiring resection of longer segments of the central airways quite often receive only palliative care with stenting or ablative procedures. Many approaches to tracheal replacement, including the use of foreign materials, nonviable tissue, autogenous tissue, tissue engineering, and transplantation, have been attempted and most have failed. Previous efforts to rebuild the windpipe and airways from scratch had focused on using artificial tubes seeded with the patient's own stem cells. This approach was made famous—and then notorious—by disgraced Italian surgeon Paolo Macchiarini, who performed synthetic trachea transplants on eight patients from 2011 to 2014. Seven died from complications, and the whereabouts of the eighth is unknown. It was later revealed that Macchiarini falsified results in published studies
The study reported in the May 2018 issue of JAMA (Feasibility of Bioengineered Tracheal and Bronchial Reconstruction Using Stented Aortic Matrices. Martinod E, Chouahnia K, Radu DM et al.JAMA. Published online May 20, 2018.doi:10.1001/jama.2018.4653)and also presented at a medical congress in San Diego, California - represents the culmination of 20 years of systematic investigation by Martinod and colleagues. In earlier animal models, these investigators showed first that aortic autografts, then aortic allografts could be used for circumferential tracheal replacement; that over a period of 6 to 12 months following an initial intense inflammatory response, the allograft developed spontaneous growth of mucociliary epithelium and vascularized cartilage originating from the recipient; and that tissue regeneration was potentially related to involvement of bone marrow-derived mesenchymal stem cells. The thick walls of aortas are designed to withstand a lifetime of high pressure of blood pumped directly from the tireless engine of the heart.
No immunosuppressive therapy was required, and only cryopreserved aortic allografts (not matched by the human leukocyte antigen and ABO systems) that are available from many tissue banks were used. The operative techniques described by Martinod and colleagues were based on the principles previously developed for tracheal resection with primary anastomosis and also used virtual 3-dimensional bronchoscopy to plan reconstruction. For some patients with cancer, this approach may preserve lung function and quality of life without compromising sound onco- surgery principles.
The surgery has helped people whose windpipes have been ravaged by cancer and other diseases to live and breathe normally again. At least one of his patients, sporting a new trachea, has taken up long-distance running.
The inside of a healthy trachea is lined with a thin film, called epithelium, that moistens and protects the airways. It also functions as a barrier to disease and foreign particles transported toward the mouth by tiny, hair-like cilia. Unexpectedly, this crucial layer had appeared on the inner surface of the transplanted aortas. New cartilage had also begun to form."That was the ultimate surprise—the aorta transforming itself into a trachea," said Martino. "It's not magic, but no one really believed it could happen that way." One patient - Eric Volery – a 40-year old Frenchman suffered from a tracheal stenosis, and he was slowing choking to death.
Martinod operated on Volery in 2011, replacing his trachea and reinforcing it with a stent. Within a few years, an epithelium has formed and the stent was removed.
"He's in perfect health, and is fond of taking 45 or 50-minute runs," the surgeon said.
I have a limited experience with tracheal resections having performed a few cases of short segment resection for early malignancies. I am quite excited about these results published. Of course, further studies from different centers are needed to see if the results can be replicated. We also need to understand the mechanisms underlying tissue regeneration and the homing of stem cells.
The work is a great illustration of high-quality bench-to-bedside research. This study represents a major advance in the management of diseases affecting the central airways.
Dr. Harinder Singh Bedi, the author is MCh, FIACS (Gold Medalist) and is Chairman, Cardio Vascular Endovascular & Thoracic Sciences, Ludhiana Mediways Hospital, Ferozpur Road. He was earlier at the Escorts Heart Institute, New Delhi and the St Vincent's Hospital, Australia. Dr Bedi is also the Secretary of the Venous Association of India and the Patron & Founder President of the Association of the North Zone Cardio Thoracic & Vascular Surgeons. He is a member Editorial Board, Cardiology at Specialty Medical Dialogues.