French Society of Anesthesia guidelines on postoperative pain management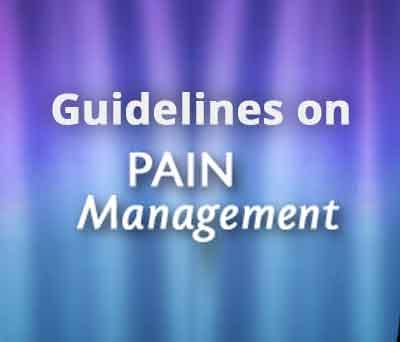 The French Society of Anesthesia and Intensive Care Medicine (SFAR) have published experts' guidelines on the care of postoperative pain. This is an update of the 2008 guidelines.
In all fourteen experts analysed the literature (PubMed™, Cochrane™) on questions that had not been treated in the previous guidelines, or to modify the guidelines following new data in the published literature. Seventeen recommendations were formalised on the assessment of perioperative pain, and most particularly in non-communicating patients, on opioid and non-opioid analgesics and on anti-hyperalgesic drugs, such as ketamine and gabapentinoids, as well as on local and regional anaesthesia. Because of the absence of sufficient data or new information, no recommendation was made about analgesia monitoring, the procedures for the surveillance of patients in conventional care structures, or perinervous or epidural catheterism.
Following are the major recommendations:


During the preoperative period, we recommend identifying the most vulnerable patients to pain (with risks to develop severe postoperative pain and/or a chronic post-surgical pain (CPSP)) by focusing on preoperative pain, including pain even far from the operating site, the long-term consumption of opioids, and surgical and psychological factors such as anxiety or depression.


We recommend using the APAIS scale (Amsterdam Preoperative Anxiety and Information Scale) as measure anxiety and/or the need for information during the preoperative period.


We recommend identifying the postoperative risk factors for CPSP by searching a high intensity of POP (using a numerical scale), an uncommon prolongation of POP, an early neuropathic pain (using a DN4 scale), or signs of anxiety or depression.


We recommend using a self-assessment scale from 5 years old (face scale, Appendix 1). Otherwise, we recommend using the FLACC scale for postoperative pain assessment in children under 7 years of age (Appendix 2).


For communicant patients, we recommend using a modified FLACC scale in children, and ALGOPLUS in elderly people.


We recommend the association of a non-selective NSAID (NS-NSAID) or a selective inhibitor of type 2 cyclooxygenase (ISCOX2) with morphine if there is no contraindication to the use of NSAIDs.


We do not recommend using a type-2 inhibitor of cyclooxygenases (ISCOX2) in patients with a history of atherothrombosis (PAD (peripheral artery disease), stroke, myocardial infarction).


We do not recommend administering NS-NSAIDs in patients atherothrombosis (PAD (peripheral artery disease), stroke, myocardial infarction) for more than 7 days


We do not recommend associating NS-NSAIDs with curative doses of the anticoagulant.


We recommend to prescribe a strong opiate (morphine or oxycodone), ideally through oral route, for severe postoperative pain or if weaker analgesics are not powerful enough to relief the patients. This recommendation applies to all ages.


We suggest that adults who undergo major surgery (abdominal, pelvic or spinal surgeries) and who do not benefit regional analgesia receive intravenous lidocaine infusion (bolus: 1 to 2 mg/kg followed by 1 to 2 mg/kg/h) in order to decrease the level of postoperative pain and to improve recovery.


We suggest that adults receive dexamethasone IV at 8 mg to reduce postoperative pain.


Intraoperatively, small doses of ketamine in patients on general anaesthesia are recommended in the two following situations: 1/ surgery with high risk of acute pain or chronic postoperative pain; 2/ patients with vulnerability to pain, and most particularly patients taking long-term opioids or addicted to opioids.


The systematic use of gabapentinoids preoperatively is not recommended for postoperative pain management.


It is recommended not to exceed the maximal toxic doses of local anaesthetics, most specifically for peri-prosthetic orthopaedic infiltrations and during associations of scar infiltrations and perinervous analgesic catheters.


In case of laparotomy (laparotomy, caesarean section and lumbotomy), and in the absence of epidural analgesia, we probably recommend the implementation of a continuous infiltration catheter.


We do not recommend performing an analgesic infiltration using an intra-articular catheter because of the toxic risk of local anaesthetics on cartilage.