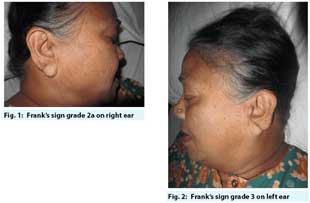 A case of Frank's Sign in a patient of Diabetes and hypertension has been reported in the Journal of the Association of Physicians of India.
Frank's sign is a diagonal crease in the earlobe extending from the tragus across the lobule to the rear edge of the auricle. The sign is named after Sanders T. Frank MD.
It has been hypothesised that Frank's sign is indicative of cardiovascular disease and/or diabetes. Some studies have described Frank's sign as a marker of cardiovascular disease although not linked to the severity of the condition.

According to history, a  66-year-old female with underlying hypertension and type 2 diabetes mellitus presented with sudden onset recurrent focal seizures involving left upper limb, left upper limb paresis and facial asymmetry with a facial deviation towards the right of 3 days duration. Examination revealed spastic left upper limb paresis and upper motor neuron type left facial palsy.
MRI brain revealed lacunar infarct in left middle cerebral artery territory. The patient was noted to have bilateral Frank's sign, which is a diagonal crease in the earlobe that runs backwards from the tragus at a 45-degree angle across the lobule to the rear edge of the auricle.

Her baseline ECG revealed left ventricular hypertrophy with no strain pattern. 2D Echo revealed left ventricular hypertrophy with grade 2 diastolic dysfunction and preserved ejection fraction and no regional wall motion abnormalities.

There has also been a further description about the various grades of severity of this sign and likelihood of its predicting the underlying vascular pathology. One such classification grades it as 1-3 viz. 
Grade1-small wrinkling < 50% of the total diagonal distance between the tragus and the free end of the earlobe, 

Grade 2a- superficial crease with a visible floor of the crease, 

Grade 2b- crease > 50% of diagonal distance, 

Grade 3- deep crease traversing from tragus to the free end of earlobe with the floor of crease not visible.

However, no association with the increased cardiovascular event has been linked to the different grades of severity in the latter.
For more details click on the link: http://www.japi.org