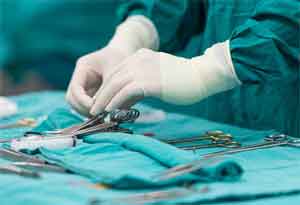 Frail patients are more likely to have serious complications after elective outpatient surgery than people who are healthier and stronger, a recent study suggests.
Much of the previous research linking physical frailty to worse surgical outcomes has been based on what happens when people have major elective or emergency operations in a hospital, researchers note in JAMA Surgery.
For the current study, researchers examined data on almost 141,000 adults who had some common elective procedures that don't require hospital admission, such as hernia repairs, breast surgery and thyroid procedures.
While less than 1 percent of these patients experienced serious complications, the odds were twice as high for people with two or three traits associated with frailty, the study found. This level of frailty was also associated with 70 percent higher odds of any complications, including minor issues.
"The results of our study show that patient frailty should be considered as a risk factor for complications even in these common and seemingly `low risk' outpatient procedures," said lead study author Dr. Carolyn Seib of the University of California, San Francisco.
Frailty is a measure of decreased physiological function that can involve problems like weakness, exhaustion, slow walking speed or low activity levels. Even though frailty is often considered a hallmark of aging, patient age isn't necessarily a good indicator of whether they may have traits that contribute to frailty.
Researchers looked for a history of several traits associated with frailty including: diabetes, impaired functional status, pneumonia or chronic lung disorder, congestive heart failure, heart attack, certain heart procedures, blood pressure medications, valve disease and stroke.
In addition, researchers accounted for age as well as other factors that can influence surgery outcomes such as sex, race and ethnicity, weight and other medical problems.
Overall, about 2,500 people experienced any type of complications within 30 days after surgery and roughly 970 individuals had serious complications, the study found.
Complications included pneumonia, unplanned insertion of a breathing tube or ventilator, cardiac arrest or heart attack, stroke or coma, kidney failure, bleeding and infections.
Based on the results, researchers conclude that accounting for frailty can provide a better picture of surgical risk than only relying on patient age.
A separate study in JAMA Surgery, however, found that new surgeons and doctors may overestimate the risks patients can face with surgery.
This study examined data from online simulated scenarios to assess patient risk completed by 76 general surgery residents, or doctors in training, and 76 internal medicine residents.
They had to determine the chances that a patient would die or have complications like pneumonia, surgical site infections or heart problems after operations.
Here, too, researchers focused on some common operations like hernia repairs, bowel surgery and breast operations.
Overall, the general surgery and internal medicine residents overestimated the risk of complications by approximately 26 percent to 33 percent, with wide variation as a group, the study found.
Even though both groups of residents were similarly inaccurate, surgical residents were much more confident in their assessments than the internal medicine group.
"What surprised me is that surgeons are not necessarily better at predicting risk than internal medicine doctors," said senior study author Dr. Kevin Pei of Yale School of Medicine in New Haven, Connecticut. "The take-home message here is that both internists and surgeons should be involved in the counseling of patients."
 The findings don't necessarily mean that every patient needs a second opinion on the risks associated with surgery, however, said Rajesh Aggarwal, author of an accompanying editorial and a researcher at Thomas Jefferson University and Jefferson Health in Philadelphia.
"Instead of focusing on second opinions, which are usually to get a second surgeon to confirm or refute the decision of the first surgeon, I believe that we need to propagate the notion of care teams in the emergency room for complex emergent patients," Aggarwal said by email.
"This would enable clinicians with expertise not only in surgery, but also in internal medicine, anesthesia, critical care, palliative care, social care and so on to come together in a rapid coherent manner to advise each other, but more importantly to provide a personalized approach to the patient and their family regarding care."
SOURCES: bit.ly/2x2k6Pv, bit.ly/2xM9jss and bit.ly/2yprto0 JAMA Surgery, online October 11, 2017.