Fracture Shaft of Femur - Standard Treatment Guidelines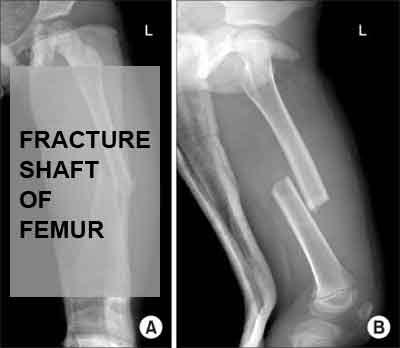 Fractures of the shaft of the femur are the result of high-energy trauma and therefore can be both life-threatening injuries and causes of severe permanent disability. Isolated injuries can occur with repetitive stress and may occur in the presence metabolic bone diseases, metastatic disease, or primary bone tumors.
The femur is very vascular and fractures can result in significant blood loss into the thigh. Up to 40% of isolated fractures may require transfusion, as such injuries can result in loss of up to 3 units of blood. This factor is significant, especially in elderly patients who have less cardiac reserve.
Most femoral diaphyseal fractures are treated surgically with intramedullary nails or plate fixation. The goal of treatment is reliable anatomic stabilization, allowing mobilization as soon as possible. Surgical stabilization is also important for early extremity function, allowing both hip and knee motion and strengthening. Injuries and fractures of the femoral shaft may have significant short- and long-term effects on the hip and knee joints if alignment is not restored.
The Ministry of Health and Family Welfare has issued the Standard Treatment Guidelines Critical Care for Fracture Shaft of Femur. Following are the major recommendations:
The 3 types of femoral shaft fractures are as follows:


Type I - Spiral or transverse (most common)


Type II - Comminuted


Type III - Open


Primary health centre level : The doctor on duty should recognise the features of fracture and disloction. Only first aid including the splintage and intravenous drip should be given. In open fractures Tetanus toxoid can be given. There is no need to waste time in preparation of medico-legal formalities. The injured should be referred to the higher centre earliest feasible causing no further harm.
Non-Metro Hospital( CHC and Civil Hospital level):
1. Investigations : X-rays of the part including hip and knee and of other areas if required, x-ray of pelvis with both hips is must. General Investigations and specific if required according to the status of the health of the patient.
2. Treatment : Conservative management of fractures in children in spica cast or with skeletal traction, Kuntscher's nail for isthmic fractures, Interlocking Nailing in comminuted fractures, Plating for lower third fractures, Plating of shaft femur fracture in children.
Referral Criteria
a. Polytrauma patient.
b. Patient with co-morbid conditions requiring multiple speciality care.
c. Non unions / Neglected fractures.
d. Pathological fractures.
e. Open fractures requiring Plastic surgery or with Large gaps due to bone loss
f. Non unions / Neglected fractures and failed osteosynthesis.
g. Fractures associated with neurovascular injuries/Suspected Fat Embolism.
h. Suspected HIV positive cases.
i. Fractures associated with any condition requiring higher investigations like CT scan, MRI etc.
Metro Hospital -Higher referral centre:
1. Investigations : X-rays of the part and of other areas if required, x-ray of pelvis with both hips is must. General Investigations and specific if required according to the presence of any co-morbidity. Special investigations like MRI/CT scan or angiography if required.
2. Treatment : All the treatment given at situation 1, Closed/Open Interlocking Nailing, DCS/Distal femoral Nail or Plate for Supracondylar/Intercondylar fractures, External fixator/Enders/solid undreamed Nail for open fractures, Fibular grafting with plating and cancellous bone grafts for non unions, Illizarovs Ring Fixator, Rail road fixator for gap defects, Plastic/Vascular surgeon assistance.
Resources required for patient and procedure
| | | | | |
| --- | --- | --- | --- | --- |
| Situation | Human Resources | Investigations | Drugs and consumables | Equipment |
| 1. | Doctor, Nurse and other paramedics | None | None except for first aid | No surgical set up |
| 2. | Doctor, Nurse, Physiotherapist and technicians | X-rays, Complete Haemogram, Bleeding time, Clotting time, Complete urine examination for for pre-anaesthetic check up | Plaster of Paris bandages Anaesthetic drugs Thromboprophylaxis | Theatre set up for Surgeries with all Basic equipments C-arm image intensifier |
| 3. | Doctor, Physiotherapist, Nurse, orthotist, Prosthetist, and technicians | As situation 1 CT Scan, MRI | As situation 1 | As situation 1, Surgical Operating Microscope, ICU, and major physiotherapy set up for rehabilitation |

Guidelines by The Ministry of Health and Family Welfare :
Group Head Coordinates of Development Team Dr. P.K. DAVE, Rockland Hospital, New Delhi Dr. P.S. Maini, Fortis Jessa Ram Hospital, New Delhi
Reviewed By
Dr. V.K. Sharma, Professor Central Instiute of Orthopaedics, Safdarjung Hospital, New Delhi