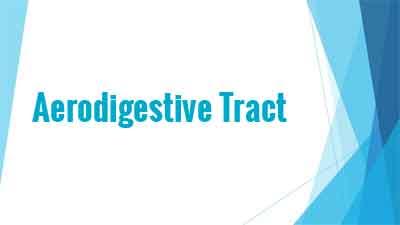 Foreign body aspirated into air passage can lodge in the larynx, trachea or bronchi. Children below 4 years are more often affected. Non irritating foreign bodies like plastic, glass or metalls may remain symptomless for a long time. Irritating foreign bodies(vegetative) like peanuts, beans, seeds, etc gives a diffuse violent reaction leading to congestion and oedema of tracheobronchial mucosa-vegetal bronchitis.
Ministry of Health and Family Welfare, Government of India has issued the Standard Treatment Guidelines for Foreign Body In Aerodigestive Tract. Following are the major recommendations:
Symptoms:
Choking, gaging, wheezing: lasts for short time. Foreign body can be cuffed out or it may lodge in larynx or tracheobronchial tree.
Symptomless interval
Later symptoms depends on site of its lodgement:
→Laryngeal: Large foreign body complete can lead to sudden death
                   Partial: pain, harseness, croupy cough,aphonia, dyspnoea, wheezing and hemopptysis.
→Traheal: loose- palpatory thud, audible slap
→Bronchial:Right>left. Can lead to atelectasis or check valve
Diagnosis:
X-ray
Fluoroscopy
CT scan
Bronchograms
D/D:
Acute laryngotraheo bronchitis
Acute Simple laryngitis
Laryngismus Striduluz
Management:
Antibiotics
Steroids
Laryngeal Foreign Body:
In complete obstruction Pound on back, turn patient upside down, follow Heimlichs Manoeuvre(stand behind the person¸and place your arms around his lower chest and give four abdominal thrusts)
If this fails: Cricothyrotomy or emergency tracheostomy
Once acute respiratory emergency is over: Direct laryngoscopy/ laryngofissure
Tracheal/Bronchial Foreign bodies:
→Conventional rigid Bronchoscope
→Rigid Bronchoscope with telescopic aid
→Bronchoscopy with C arm fluroscopy
→Dormia Basket/ Fogarthy Balloon
→Thoracotomy and bronchotomy for peripheral foregn bodies
→Flexible Fibre optic bronchosopy
Guidelines by The Ministry of Health and Family Welfare :
Dr J M Hans Ex-HOD Dept. of Otorhinolaryngology Dr.RML Hospital New Delhi