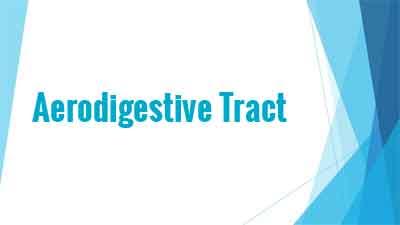 Foreign body aspirated into air passage can lodge in the larynx, trachea or bronchi. Children below 4 years are more often affected. Non irritating foreign bodies like plastic, glass or metalls may remain symptomless for a long time. Irritating foreign bodies(vegetative) like peanuts, beans, seeds, etc gives a diffuse violent reaction leading to congestion and oedema of tracheobronchial mucosa-vegetal bronchitis.
Ministry of Health and Family Welfare, Government of India has issued the Standard Treatment Guidelines for Foreign Body In Aerodigestive Tract. Following are the major recommendations:
Symptoms:
Choking, gaging, wheezing: lasts for short time. Foreign body can be cuffed out or it may lodge in larynx or tracheobronchial tree.
Symptomless interval
Later symptoms depends on site of its lodgement:
→Laryngeal: Large foreign body complete can lead to sudden death
                   Partial: pain, harseness, croupy cough,aphonia, dyspnoea, wheezing and hemopptysis.
→Traheal: loose- palpatory thud, audible slap
→Bronchial:Right>left. Can lead to atelectasis or check valve
Diagnosis:
X-ray
Fluoroscopy
CT scan
Bronchograms
D/D:
Acute laryngotraheo bronchitis
Acute Simple laryngitis
Laryngismus Striduluz
Management:
Antibiotics
Steroids
Laryngeal Foreign Body:
In complete obstruction Pound on back, turn patient upside down, follow Heimlichs Manoeuvre(stand behind the person¸and place your arms around his lower chest and give four abdominal thrusts)
If this fails: Cricothyrotomy or emergency tracheostomy
Once acute respiratory emergency is over: Direct laryngoscopy/ laryngofissure
Tracheal/Bronchial Foreign bodies:
→Conventional rigid Bronchoscope
→Rigid Bronchoscope with telescopic aid
→Bronchoscopy with C arm fluroscopy
→Dormia Basket/ Fogarthy Balloon
→Thoracotomy and bronchotomy for peripheral foregn bodies
→Flexible Fibre optic bronchosopy
Guidelines by The Ministry of Health and Family Welfare :
Dr J M Hans Ex-HOD Dept. of Otorhinolaryngology Dr.RML Hospital New Delhi
The following two tabs change content below.
supriya kashyap
Supriya Kashyap Joined Medical Dialogue as Reporter in 2015 . she covers all the medical specialty news in different medical categories. She also covers the Medical guidelines, Medical Journals, rare medical surgeries as well as all the updates in medical filed. She is a graduate from Delhi University. She can be contacted at supriya.kashyap@medicaldialogues.in Contact no. 011-43720751
Latest posts by supriya kashyap (see all)