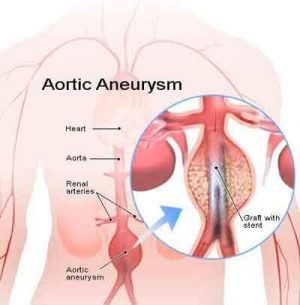 Exposure to fluoroquinolones — most commonly used antibiotics — is highly associated with risk for aortic aneurysm (AA) and aortic dissection (AD), according to a new study published in the Journal of the American College of Cardiology.
Chien-Chang Lee,  Department of Emergency Medicine, National Taiwan University Hospital, Taipei Taiwan, and colleagues conducted the study to evaluate the association between fluoroquinolone treatment and serious collagen disorders, AA and AD via a case-crossover analysis in a large national administrative database.
For the study, the researchers analyzed fluoroquinolone prescriptions among 1,213 patients hospitalized for AA or AD from 2001 to 2011 using national databases from Taiwan. They compared exposure to the drug in the 60 days leading up to the AA/AD event to a randomly selected 60-day interval between 60 and 180 days before the event.
Key Findings:
1.6 percent of patients had been exposed to fluoroquinolone in the two months leading up to their event, versus only 0.6 percent in a preceding 60-day period. That translated to a 2.71-fold risk of AA/AD related to more recent fluoroquinolone use.
Prolonged exposure to the antibiotics further increased risk.
Those who were prescribed the drugs for between three and 14 days showed a 2.41-fold increased risk versus no prescription at all, while those prescribed fluoroquinolones for more than 14 days demonstrated a 2.83-fold risk.
"Typically, AA/AD develop slowly in patients, but our data suggest that use of fluoroquinolone can contribute in the short term to aneurysm progression or rupture that may require emergency department visits and hospitalization," write the authors.
Despite the relative rarity of the conditions, the authors suggested the rising prescriptions of fluoroquinolones may be cause for concern, particularly since AA and especially AD are life-threatening without timely treatment.
"Exposure to fluoroquinolone was substantially associated with AA/AD. This risk was modified by the duration of fluoroquinolone use and the length of the hazard period," they concluded.
For further reference log on to 10.1016/j.jacc.2018.06.067