................................ Advertisement ................................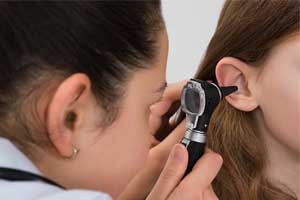 Fluoroquinolone ear drops may increase the risk of eardrum perforation, finds a new study.
The researchers at the University of Florida in a comparative safety study have found that the use of quinolone ear drops to treat acute otitis externa (AOE) in children and adults is associated with a previously unreported increased risk of tympanic membrane perforation (TMP). The case has been reported in the Journal of Clinical Infectious Diseases.
Acute Otitis Externa is usually an uncomplicated ear infection that is not known to cause eardrum perforation. Quinolone ear drops and other ototopical antibiotics are frequently used to treat AOE, but because quinolones have been linked to soft-tissue damage, such as tendon rupture, the researchers wanted to see whether quinolone ear drops increase the risk of TMP.
The researchers conducted a cohort study to examine whether the use of quinolone ear drops increased the risk of perforation with intact tympanic membranes and acute otitis externa (AOE).
The researchers used Medicaid clinical encounter and pharmacy billing records from 1999 through 2010 and analyzed treatment outcomes in 94,333 patients treated for Acute Otitis Externa. risk of TMP.
................................ Advertisement ................................
Of the patients included in the study, 43,653 were treated with quinolone ear drops with or without corticosteroids and 50,680 were treated with neomycin-plus-hydrocortisone ear drops. Overall, 38 cases of TMP were diagnosed in patients exposed to quinolone ear drops during follow-up, compared with 25 in neomycin-exposed patients. When adjusted for demographics and other covariates, the risk of TMP associated with quinolone ear drops was more than twice that of neomycin ear drops (adjusted hazard ratio [HR], 2.26; 95% confidence interval [CI], 1.34 to 3.83).
When comparing individual quinolone preparations against neomycin, the adjusted HRs were 2.53 for ofloxacin (95% CI, 1.27 to 5.05), 2.24 for ciprofloxacin plus hydrocortisone (95% CI, 1.03 to 4.85), and 2.30 for ciprofloxacin plus dexamethasone (95% CI, 1.09 to 4.87). Sensitivity analyses were consistent with the primary analysis.
................................ Advertisement ................................
The authors concluded that the use of quinolone ear drops to treat AOE is associated with a previously unreported increased risk of developing TMPs. Selection of otic preparations to treat self-limited conditions with intact tympanic membranes should consider TMP risk.
 They further added that the risks and benefits of otic quinolones should be considered prior to treatment of AOE. "Therapy duration, volume dispensed, and refills should be limited to what is necessary to ensure clinical cure. Patients should be counselled on the risk of TMP and monitored for TMPs in follow-up visits."
For more details click on the link: https://doi.org/10.1093/cid/ciz345
Hina Zahid Joined Medical Dialogue in 2017 with a passion to work as a Reporter. She coordinates with various national and international journals and association and covers all the stories related to Medical guidelines, Medical Journals, rare medical surgeries as well as all the updates in the medical field. Email: hina@medicaldialogues.in. Contact no. 011-43720751
To know about our editorial team click here
................................ Advertisement ................................