Fluorescence optical imaging facilitates rheumatoid arthritis diagnosis, finds a recent study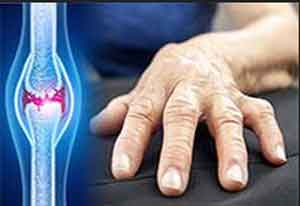 Berlin, Germany: The use of fluorescence optical imaging (FOI) may help in better diagnosis of rheumatoid arthritis, finds a recent study in the Arthritis Research & Therapy journal.
According to the study, FOI in rheumatic joint diseases correlates with ultrasound as a validated and well-established imaging technique in daily rheumatological practice.
Fluorescence optical imaging enables visualization of inflammation in the hands in rheumatic joint diseases with currently a lack of long-term follow-up studies. Sarah Ohrndorf, Charité-Universitätsmedizin Berlin, Berlin, Germany, and colleagues investigated FOI for treatment monitoring in a homogenous cohort of patients with early (disease duration < 2 years) and active (DAS28 > 3.2) RA over a period of 12 months.
"This present study is the first one describing the changes of fluorescence optical imaging in a homogeneous cohort of patients with early and active rheumatoid arthritis over a period of 12 months under antirheumatic therapy," wrote the authors.
The study involved clinical investigation of 35 patients (24 females; mean age 53.3 years) by DAS28, tender joint count and swollen joint count, and by fluorescence optical imaging in phases one through three and PrimaVistaMode before therapy change and after 12 months. The fluorescence optical imaging activity score (FOIAS) was calculated based on individual joint scores from zero to three in 30 joints per patient, adding up to a sum score (0–90).
Key findings include:



A reduction of FOIAS was observed in phase one from baseline (median 5.0, IQR 24.96) to follow-up (median 1.0, IQR 4.0) in all patients, both in responders and non-responders according to DAS28.




Statistically significant reductions over 12  months were found for median DAS28 5.61 to 3.31, tender joint count 7.0 to 1.0, and swollen joint count 5.0 to 1.0.




46 percent of the patients achieved clinical response after one year of antirheumatic therapy, and 31.4 percent of patients achieved remission of DAS28 less than 2.6.



"The low correlations of phase one with ultrasound at month 12 may indicate that there was no or only a small amount of acute inflammation after one year of intensive therapy, whereas the greyscale ultrasound synovitis findings can persist. Fluorescence optical imaging phase one is probably a reflection of acute inflammation," the authors wrote.
"Reduced early enhancement in FOI phase 1 can be observed in clinically responding and non-responding early RA patients under treatment. Regarding potential marker performance, FOI probably shows a reduction of inflammation more objectively," they concluded.
Source
Fluorescence optical imaging for treatment monitoring in patients with early and active rheumatoid arthritis in a 1-year follow-up period
DOI: https://doi.org/10.1186/s13075-019-1989-5
Source : With inputs from Arthritis Research & Therapy