Flu vaccination highly useful in resource-poor areas-Offers indirect protection also: Lancet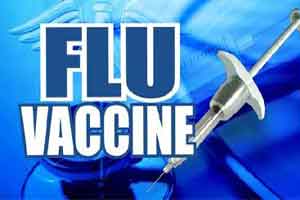 Flu vaccination useful in resource-poor areas-Offers direct and indirect protection finds a Lancet study.
The study suggests that pediatric influenza vaccination offers varying levels of protection for recipients and unvaccinated household family members. The study has appeared in The Lancet Global Health.
Paediatric vaccination against influenza can result in indirect protection, by reducing transmission to their unvaccinated contacts. The researchers investigated whether influenza vaccination of children would protect them and their household members in a resource-limited setting.
The researchers performed clustered, controlled study in three villages in India among children ages 6 months to 10 years between 2009 and 2012. Families were randomly assigned to either intramuscular trivalent inactivated influenza vaccine (IIV3) or control of inactivated poliovirus vaccine (IPV), with vaccination occurring annually for 3 years. During the study period, researchers vaccinated 4,345 children (2,132 with IIV3 and 2,213 with IPV) from 1,868 households that contained 10,813 unvaccinated household contacts.
The primary efficacy outcome was laboratory-confirmed influenza in a vaccinated child with febrile acute respiratory illness, analysed in the modified intention-to-treat population (ie, children who received at least one dose of vaccine, were under surveillance, and had not an influenza infection within 15 days of last vaccine dose). The secondary outcome for indirect effectiveness (surveillance study) was febrile acute respiratory illness in an unvaccinated household member of a vaccine study participants.
The total vaccine efficacy against laboratory-confirmed influenza over the 3-year period was 45.1% (95% confidence interval (CI), 35.2% to 53.5%). The vaccine was most effective in year 3 of the study (74.2%; 95% CI, 57.8% to 84.3%), and lowest in year 1 (25.6%; 95% CI, 6.8% to 40.6%). In year 3, researchers also saw significant indirect protection (vaccine efficacy 38%; 95% CI, 7.4% to 58.6%) among unvaccinated family members.
The authors concluded that"Significant household-level indirect protection was observed during 1 year of high direct protection and should be considered as a potential effect of vaccination."
In a commentary on the study, Maharaj Kishan Bhan, MBBS, MD, and Bireshwar Sinha, MBBS, MD, two Indian experts who weren't involved in the study, pointed out that the varying protection levels provide more rationale for a universal flu vaccine, which would be especially useful in a resource-limited community.
"The current influenza vaccines are moderately efficacious and cumbersome to manufacture," Kishan Bhan wrote. "A universal influenza vaccine that is efficacious against all strains of this virus is a goal worthy of pursuit."