FLASH-radiotherapy could shorten cancer treatment time, improve outcomes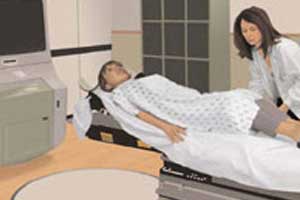 Philadelphia, Pennsylvania: FLASH-radiotherapy could help doctors eradicate tumors in a fraction of the time and at a fraction of the cost of traditional radiotherapy, a recent study in the International Journal of Radiation Oncology, Biology and Physics has suggested. This could ould someday shorten the time patients spend in treatment and improve their overall outcomes. The study further substantiates the promise of this cancer therapy as demonstrated earlier by another study published in October 2019 in the journal Radiotherapy and Oncology.
The technique, that appears to kill off tumor cells while sparing healthy tissues, works by bombarding the tumor site with a steady stream of particles, usually, light particles, called photons, or negatively charged electrons. The new study has thrown another particle into the mix: the positively charged proton. As of yet, the lightning-fast technique has not faced formal clinical trials in human patients.
Recent studies suggest that ultrahigh-dose-rate FLASH RT decreases damage to normal tissue while maintaining tumor response compared with conventional-dose rate RT. In the present study, Keith A. Cengel, an associate professor of radiation oncology at the Hospital of the University of Pennsylvania, and colleagues described a novel RT apparatus that delivers FLASH proton RT (PRT) using double scattered protons with computed tomography guidance and provide the first report of proton FLASH RT-mediated normal tissue radioprotection.
The team used an existing proton accelerator, known as a cyclotron, to run the experiments, but made a number of modifications. The trick was to ramp up the rate at which the protons could be fired from the machine while also developing strategies to monitor where the protons landed and in what quantity. With this infrastructure in place, the team could better control the current of protons flowing from the cyclotron, "sort of like a faucet that you can turn on full blast or drip," Cengel said.
The team then aimed its cyclotron at model mice. Induced tumors grew in the animals' pancreases and along their upper intestines, so the researchers sent a single pulse of radiation through the rodents' abdominal cavities. The flash lasted between 100 and 200 milliseconds, and by lining up many proton beams alongside each other, like uncooked spaghetti in a tight tube, the team struck the entire abdominal cavity in one shot.
According to Dr. Cengel, the technique has the same tumor-control rate [as conventional radiation] but significantly less effect on normal tissue.
Each particle may be uniquely suited to target certain tumor types in specific spots in the body, meaning protons may offer the best treatment option for some patients, Cengel told Live Science.
The speed makes all the difference. In conventional radiation therapy, a patient may undergo dozens of treatment sessions, during which time healthy tissues may become damaged long before the tumor cells perish. But when the same dose of radiation is delivered at a faster rate, as with flash, healthy tissues remain unscathed. Exactly why that happens remains a mystery.
Regardless of why it works, flash radiation seems promising in preliminary studies, though the technique does have limitations. Photons can be used to target tumors throughout the body, but the machines that shoot the particles cannot yet fire fast enough to achieve the needed dose-rate. High-energy electrons can penetrate tissues to reach deep-seated tumors but are technologically difficult to generate. Low-energy electrons offer another option, but these can pierce through only about 2 inches (5 to 6 centimeters) of flesh, Cengel said.
While low-energy electrons can take care of superficial tumors, Cengel and his colleagues theorized that protons may be better suited for targeting cancer cells located deeper in the body. To test their idea, they had to build the right tools for the job.
Cengel and his colleagues plan to continue optimizing their tools and techniques while working to determine what dose rate delivers the most therapeutic benefit. In this way, the team would run a clinical trial of sorts but with animals as the initial subjects.
Assuming flash weathers the road to real human patients, the technique could allow doctors to target tumors that once defied treatment with radiation, Cengel said.
"We could literally treat things that are not [currently] possible to treat and cure people who are not possible to cure," he said. "Obviously, big grain of salt on all that."
The study, "Design, Implementation, and in Vivo Validation of a Novel Proton FLASH Radiation Therapy System," is published in the International Journal of Radiation Oncology, Biology and Physics.
Source : International Journal of Radiation Oncology, Biology and Physics