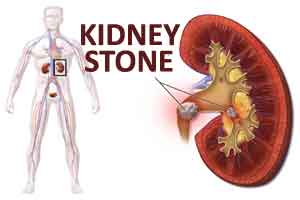 Children and adults exposed to oral antibiotics have a higher risk of developing kidney stones, says a recent study. Patients who received sulfa drugs were more than twice likely to have kidney stones as compared to those not exposed to antibiotics and for broad-spectrum penicillins, the increased risk was 27 percent higher. In all the researchers identified five classes of oral antibiotics that increase the risk of kidney stones.
Previous researchers have already proved that antibiotics alter the composition of the human microbiome–the community of microorganisms in the body. Disruptions in the intestinal and urinary microbiome have been linked to the occurrence of kidney stones, but no previous studies revealed an association between antibiotic usage and stones.
Tasian E. Gregory and his colleagues conducted a research to find out whether antibiotics are a risk factor for intestinal and urinary microbiome perturbations associated with nephrolithiasis.
Key findings of the study:
Use of oral antibiotics was linked with an increased risk of developing kidney stones.
Risk decreased over time but was still elevated several years after antibiotic use.
The risk was highest for young patients.
The study team included 13 million adults and children from the United Kingdom, between 1994 and 2015. The team analyzed prior antibiotic exposure for nearly 26,000 patients with kidney stones, compared to nearly 260,000 control subjects.
The study found that five classes of oral antibiotics were involved in kidney stone disease. The five classes were oral sulfas, cephalosporins, fluoroquinolones, nitrofurantoin, and broad-spectrum penicillins. After adjustments for age, sex, race, urinary tract infection, other medications and other medical conditions, patients who received sulfa drugs were more than twice as likely as those not exposed to antibiotics to have kidney stones; for broad-spectrum penicillins, the increased risk was 27 percent higher.
Tasian said that other researchers have found that roughly 30 percent of antibiotics prescribed in office visits are inappropriate, and children receive more antibiotics than any other age group, so the new findings reinforce the need for clinicians to be careful in prescribing correct antibiotics.
He added, "Our findings suggest that antibiotic prescription practices represent a modifiable risk factor–a change in prescribing patterns might decrease the current epidemic of kidney stones in children."
Jeffrey Gerber, the co-author of the study said that the findings of the study are an approach that guides health care providers in prescribing the most appropriate antibiotic for each patient's specific infection, with the aim of improving individual outcomes and reducing the overall risk of antibiotic resistance.
The prevalence of nephrolithiasis has increased 70% over the last 30 years, with the most disproportionate increase experienced by children and adolescents.
The study concluded that results suggest the risk of kidney stones may be decreased by reducing inappropriate antibiotic exposure and choosing alternative antibiotics, particularly for those patients who are at increased risk of stone formation.
The study was published in the Journal of the American Society of Nephrology
For more reference log on to: http://dx.doi.org/10.1681/ASN.2017111213
The following two tabs change content below.
Vinay Singh
Vinay Singh joined Medical Dialogue as Desk Editor in 2018. He covers the medical speciality news in different medical categories including Medical guidelines, updates from Medical Journals and Case Reports. He completed his graduation in Biotechnology from AAIDU and did his MBA from IILM Gurgaon. He can be contacted at editorial@medicaldialogues.in . Contact no. 011-43720751
Latest posts by Vinay Singh (see all)