Fish oil supplements promote recovery in disuse muscle atrophy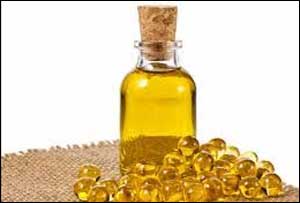 According to a new study , dietary supplementation with omega-3 fatty acids or fish oils reduced the rate at which young women lost muscle mass during a period of immobilization. The study has been published in the FASEB Journal.
The researchers at from McMaster University, Ontario, Canada enrolled 20 healthy young women (age range, 19-31 years) who were recreationally active (ie, active but engaging in structured exercise 2 days/week or fewer). They randomly assigned women to two groups: one group received an omega-3 fatty acid (fish oil) supplement (active group) and the other group received a sunflower oil supplement (control group).
The leg muscle size, mass, strength, and protein synthesis (known to regulate muscle size) were measured before and after immobilization and following the recovery period.Participants in the fish oil group consumed 2.97 g eicosapentaenoic acid (EPA) and 2.03 g docosahexaenoic acid (DHA). Both groups consumed the supplements for 4 weeks, at which time all participants had one of their legs immobilized for 2 weeks in a knee brace. The researchers found that in the omega-3 group, the amount of muscle lost during immobilization was significantly lower than that of the control group.
After two weeks of regular daily activity, the omega-3 group experienced full return of skeletal muscle volume. This finding contradicts previous work in rodents showing inhibited recovery in atrophied muscle by omega-3 fatty acids following hind limb immobilization.
These findings highlight "the potential efficacy of n-3 fatty acid intake to mitigate disuse-induced skeletal muscle atrophy," write McGlory and colleagues."The practical implication of these findings is that n-3 supplementation may be a viable strategy to offset muscle atrophy and promote recovery following periods of muscle disuse in humans, such as elective surgery," conclude the authors.
"We are the first to show that n-3 fatty acid supplementation attenuates decrements in skeletal muscle size in response to unilateral leg immobilization in women," write researchers.
"The interplay between dietary regimes and concurrent activity levels is not often addressed as squarely as it was in this study," said Thoru Pederson, Ph.D., Editor-in-Chief of
The FASEB Journal
.