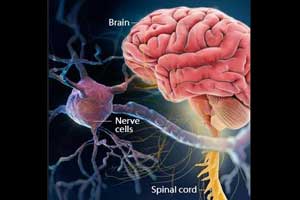 The U.S. Food and Drug Administration approved Gilenya (fingolimod) to treat relapsing multiple sclerosis (MS) in children and adolescents age 10 years and older, the first such FDA approval of a drug to treat MS in pediatric patients.86 percent of patients receiving Gilenya remained relapse-free after 24 months of treatment, compared to 46 percent of those receiving interferon beta-1a., according to a recent trial.
This approval expands the age range for Gilenya, which was previously approved for patients aged 18 years and older with a relapsing form of multiple sclerosis(RMS). Gilenya has a reversible lymphocyte redistribution effect targeting both focal and diffuse central nervous system (CNS) damage caused by MS.
Multiple sclerosis (MS) is a demyelinating disease in which the insulating covers of nerve cells in the brain and spinal cord are damaged. It is among the most common causes of neurological disability in young adults and occurs more frequently in women than men. For most people with MS, episodes of worsening function and appearance of new symptoms, called relapses or flare-ups, are initially followed by recovery periods (remissions). Over time, recovery may be incomplete, leading to a progressive decline in function and increased disability.
Billy Dunn, MD, director of the Division of Neurology Products in the FDA's Center for Drug Evaluation and Research, said that for the first time, there is an FDA-approved treatment specifically for children and adolescents with multiple sclerosis. He further added that multiple sclerosis can have a profound impact on a child's life and that the approval represented an important and needed advance in the care of pediatric patients with multiple sclerosis.
The Phase III PARADIGMS study done was a double-blind, randomized, multi-centre study to evaluate the safety and efficacy of oral Gilenya compared to interferon beta-1a in children and adolescents with a confirmed diagnosis of multiple sclerosis The study included 215 children and adolescents with MS, 10 to less than 18 years of age. Patients were randomized to receive once-daily oral Gilenya (0.5 mg or 0.25 mg, dependent on patients' body weight) or intramuscular interferon beta-1a once weekly. The primary endpoint of the study was the frequency of relapses in patients treated up to 24 months
In the study, 86 percent of patients receiving Gilenya remained relapse-free after 24 months of treatment, compared to 46 percent of those receiving interferon beta-1a.
Risk factors associated with Gilenya
slowing of the heart rate, especially after the first dose.
Increased risk of serious infections. Patients should be monitored for infection during treatment and for two months after discontinuation of treatment.
A rare brain infection that usually leads to death or severe disability, called progressive multifocal leukoencephalopathy (PML) has been reported in patients being treated with Gilenya.
It can cause vision problems.
It may increase the risk for swelling and narrowing of the blood vessels in the brain (posterior reversible encephalopathy syndrome).
Other serious risks include respiratory problems, liver injury, increased blood pressure and skin cancer.
It can cause harm to a developing fetus
Gilenya is the most prescribed oral once-daily MS disease-modifying treatment, with a global exposure of more than 231,000 patients since its initial approval for adults with RMS
The following two tabs change content below.
Vinay Singh
Vinay Singh joined Medical Dialogue as Desk Editor in 2018. He covers the medical speciality news in different medical categories including Medical guidelines, updates from Medical Journals and Case Reports. He completed his graduation in Biotechnology from AAIDU and did his MBA from IILM Gurgaon. He can be contacted at editorial@medicaldialogues.in . Contact no. 011-43720751
Latest posts by Vinay Singh (see all)