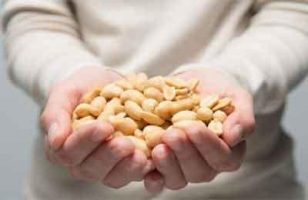 A new treatment offers hope for patients with peanut allergy.
If findings of a study published in the journal New England Journal of Medicine is to be believed, the first medical treatment for children with peanut allergies is likely to be approved next year. The results show it is possible for some people with peanut allergy to protect themselves from accidental ingestion by building up their tolerance to peanut over time.
The study, also presented at the American College of Allergy, Asthma and Immunology (ACAAI) Annual Scientific Meeting is significant as there are no approved treatment options for peanut allergy that affects patients at risk for unpredictable and occasionally life-threatening allergic reactions.
"We're excited about the potential to help children and adolescents with peanut allergy protect themselves against accidentally eating a food with peanut in it," says allergist Stephen Tilles, ACAAI past president, study co-author, and consulting advisor for Aimmune Therapeutics. "Our hope when we started the study was that by treating patients with the equivalent of one peanut per day, many would tolerate as much as two peanuts. We were pleased to find that two-thirds of the people in the study were able to tolerate the equivalent of two peanuts per day after nine to 12 months of treatment, and half the patients tolerated the equivalent of four peanuts."
This phase 3 trial involved participants ranged in age from 4 to 55 years, most were 4 to 17, and all had peanut allergy. Participants with an allergic response were randomly assigned, in a 3:1 ratio, to receive AR101 (a peanut-derived investigational biologic oral immunotherapy drug) or placebo in an escalating-dose program. The primary efficacy endpoint was the proportion of participants 4 to 17 years of age who could ingest a challenge dose of 600 mg or more, without dose-limiting symptoms.
All those in the study received peanut protein as part of an oral food challenge (OFC). A person in an OFC is given a very small dose of the food by mouth under the supervision of a board-certified allergist to test for a severe reaction. OFCs are considered the gold standard for testing food allergy.
Key Findings:
Of the 551 participants who received AR101 or placebo, 496 were 4 to 17 years of age; of these, 250 of 372 participants (67.2%) who received active treatment, as compared with 5 of 124 participants (4.0%) who received placebo, were able to ingest a dose of 600 mg or more of peanut protein, without dose-limiting symptoms, at the exit food challenge (difference, 63.2 percentage points; 95% confidence interval, 53.0 to 73.3; P<0.001).
During the exit food challenge, the maximum severity of symptoms was moderate in 25% of the participants in the active-drug group and 59% of those in the placebo group and severe in 5% and 11%, respectively.
Adverse events during the intervention period affected more than 95% of the participants 4 to 17 years of age.
A total of 34.7% of the participants in the active-drug group had mild events, as compared with 50.0% of those in the placebo group; 59.7% and 44.4% of the participants, respectively, had events that were graded as moderate, and 4.3% and 0.8%, respectively, had events that were graded as severe.
Efficacy was not shown in the participants 18 years of age or older.
"This is not a quick fix, and it doesn't mean people with peanut allergy will be able to eat peanuts whenever they want," says allergist Jay Lieberman, MD, vice chair of the ACAAI Food Allergy Committee and study co-author. "But it is definitely a breakthrough. The hope would be to have a treatment available in the second half of 2019. If that happens, people who receive and are able to tolerate this treatment should be protected from accidental exposures."

"Reactions from the oral challenges at the end of the study were much milder than prior to treatment," says Dr. Tilles. "On average, the participants were able to tolerate a 100-fold higher dose of peanut at the end of the study than they did at the beginning. In addition, the symptoms caused by the 100-fold higher dose at the end of the study were milder than the symptoms on the lower dose at the beginning of the study."
If this treatment is approved by the FDA, it will be available by prescription, and people with peanut allergy will need to remain on it to stay protected against accidental consumption. Once someone stops the treatment, there is no longer a protective effect.
For further reference follow the link: 10.1056/NEJMoa1812856