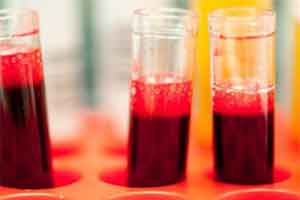 Researchers at University of Melbourne have found that a new potential biomarker,a key enzyme , ACE2-  high levels of which  more than doubled the chances of heart attack(MI), heart failure and mortality over ten years among patients with coronary artery disease,CAD.This simple blood test   could identify patients most at risk of a  cardiac event and may need their medications increased or other interventions to ward off a future heart attack or heart failure.The findings of study have appeared in Journal PLOS One .
Coronary artery disease is the leading cause of death globally as   the arteries carrying oxygen-rich blood away from the heart become clogged with fatty plaque thereby jeopardising blood flow to heart muscle.
The enzyme ACE2 has been associated with cardiovascular disease for a decade, but researchers  have recently found that the higher the level of circulating ACE2, the greater the risk.Circulating levels of the enzyme are low in healthy people but increase once cardiovascular disease or risk factors are present, including heart failure, kidney disease and diabetes.
The scientists  recruited 79 patients  with coronary artery disease over ten years, and found 46 per cent of them experienced heart attacks, heart failure or death in that time. But in those with the highest levels of ACE2, the risk was increased 2.5–fold compared to those with lower levels of ACE2.
"While our study was small, we saw the risk of heart attack, heart failure or death was significantly increased in those with higher levels of ACE2," says study lead author Professor Louise Burrell.
"Our study included only people with severe coronary artery disease diagnosed by a coronary angiogram."
"We found that ACE2 was elevated in all patients with coronary artery disease compared to healthy subjects. Patients with coronary artery disease are already known to be at increased risk, and it was only when we followed the patients for three to four years that the adverse impact of having very high ACE2 levels on top of coronary artery disease were seen", says Professor Burrell.
"Seeing such a difference after a few years is very significant. If that was a result from a trial of a new drug, we'd be looking at a new treatment for coronary disease."
"Future studies are planned to investigate if intensification of the medical treatment in those patients will reduce the risk of death. If this were the case, the ACE2 blood test could be offered to all patients with coronary artery disease as part of their risk assessment," Burrell said.
The researchers have now recruited nearly 400 patients with coronary artery disease from Austin Health in Melbourne for the next step in the research, which will seek to confirm their findings in a larger cohort and also plan to investigate the genetics underpinning ACE2.
For further reference log on to:
DOI: 10.1016/j.tem.2004.03.001