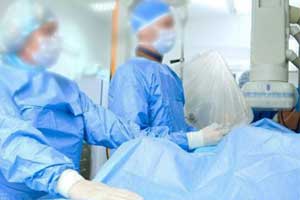 First ever device to treat perforation during PCI approved by The U.S. Food and Drug Administration, FDA.
The U.S. Food and Drug Administration has approved PK Papyrus Covered Coronary Stent System which is a device that treats acute coronary artery perforations, or tears in the blood vessels of the heart. It is the first device approved by the FDA for this indication in 17 years.
During PCI, a thin flexible tube with a balloon on the end is inserted into a narrowed coronary artery and at times a coronary artery perforation can occur during the procedures.  On rare occasions, a deep tear occurs in the wall of the treated coronary artery during the PCI procedure.  In some coronary perforations, blood can leak out through the tear leading to a life-threatening collection of blood in the sac surrounding the heart.
The FDA reviewed real-world survey data from 80 patients who received PK Papyrus Stents to treat coronary artery perforations. PK Papyrus Stents were successfully delivered to the perforation site in 76 of the 80 patients (95 per cent), and the device successfully sealed the perforation in 73 patients (91.3 per cent).
"An acute coronary artery perforation is a rare, but potentially life-threatening complication of heart vessel procedures," said Bram Zuckerman, M.D., director of the Division of Cardiovascular Devices in the FDA's Center for Devices and Radiological Health. "The PK Papyrus Covered Coronary Stent System provides healthcare providers with a new treatment option that can seal the perforation in order to stop blood leakage during the procedure and avoid a potentially life-threatening complication or a more invasive surgical procedure."
The PK Papyrus Stent System is a balloon-expandable covered coronary stent and delivery system. The device is advanced into the perforated coronary artery vessel using a balloon catheter, similar to the one used during the PCI procedure. Once the PK Papyrus Stent is implanted, it provides a physical barrier to seal the tear in the artery wall while still allowing blood to flow through the device to the heart muscle. Successful sealing of a coronary perforation with the PK Papyrus Covered Coronary Stent System can be a life-saving procedure without the need for open-heart surgery.
 The PK Papyrus System is contraindicated for patients who are not considered candidates for standard PCI procedures, such as individuals not able to take anti-platelet and/or anticoagulation therapy ("blood thinners"), patients with allergies to contrast media, and patients with uncorrected bleeding disorders. The device is also contraindicated for patients with a known allergy or hypersensitivity to amorphous silicon carbide or any other compound of the PK Papyrus Covered Coronary Stent System (Siloxane-based Polyurethane, L-605, and cobalt chromium alloy, including tungsten and nickel). Patients should discuss other contraindications with their health care providers. FDA granted the humanitarian device exemption to Biotronik.