First drug approved for polycystic kidney disease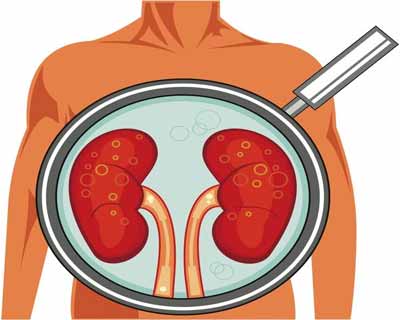 The U.S. Food and Drug Administration has approved the first drug to slow kidney decline in patients with the most common inherited kidney disease. FDA granted approval of JYNARQUE™ (pronounced jin-AR-kew and also known as tolvaptan) on April 24, to be the first treatment in the United States for adult patients with rapidly progressing autosomal dominant polycystic kidney disease (ADPKD), the most common form of polycystic kidney disease (PKD).
The PKD Foundation not only supported early studies that led to the development of JYNARQUE™ as a treatment but also helped guide PKD patients to the JYNARQUE™ clinical trials. JYNARQUE™ was developed by Otsuka Pharmaceuticals.
Following this approval by the FDA, JYNARQUE™ will be available in the United States for patients in the coming weeks.
JYNARQUE™ slows the growth of cysts and the progression of the disease and has been shown to preserve kidney function. The treatment for ADPKD is an oral pill taken twice a day. It is a long-term use drug – extending the time before a patient needs dialysis or a transplant, though not curing the disease.
The efficacy of JYNARQUE™ in ADPKD was based on data from two of the largest Phase 3 clinical trials in patients with ADPKD. Lasting one and three years respectively, they led to JINARC®/JYNARQUE™ to be approved for adult patients with ADPKD in Japan, the European Union, Canada, South Korea, Switzerland, Hong Kong, Australia, Turkey, Taiwan and finally today here in the United States.
PKD, a chronic, genetic disease, is characterized by uncontrolled growth of cysts in the kidneys and other organs and can lead to kidney failure. Before today, there has been no treatment specifically for PKD in the U.S. The only treatment options were to receive a transplant or begin dialysis. And though there is no cure, patients who are prescribed JYNARQUE™ for PKD will see a slower decline in their kidney function, leading to improved health and well being.
The progressive genetic disorder is the fourth-leading cause of kidney failure. It causes fluid-filled cysts to develop in and damage kidneys.
For almost 10 years, Harr participated in a clinical trial that tested JYNARQUE™ and says she did it for her children. With this news, she is "grateful for the opportunity to contribute to research that drove us to a treatment.
"The FDA rejected it in 2013 but approved it after the drugmaker did an additional study. That one-year study, involving 1,370 patients with advanced disease, found the drug on average slowed kidney function decline about 35 percent more than dummy pills.
Otsuka says the drug, also known as tolvaptan, will cost $13,041 per month without insurance.
Jynarque can cause serious, even fatal liver injuinsurancery, excessive urination, and other side effects.