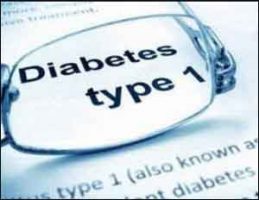 A unique and first of its kind case appeared in The Journal of Clinical Endocrinology & Metabolism which reports a patient with type 1 diabetes mellitus (T1DM) and severe infection has reduced insulin needs after starting micafungin therapy.
Michael Morkos and his colleagues described the case of a 29-year-old Hispanic female with a known history of long-standing uncontrolled type 1 diabetes presented for evaluation of worsening dysphagia and dyspnea.
Read Also: Managing type 1 diabetes in adolescents and kids : New position statement by ADA
She was found to have cervical necrotizing fasciitis extending into the mediastinum and required several debridement surgeries along with broad-spectrum antibiotics and antifungal therapy. She had uncontrolled diabetes with a glycosylated hemoglobin (HbA1c) of 13.4% (18.8 mmol/L) on admission. Her insulin requirements progressively increased due to worsening infection, continuous tube feeds, and multiple debridement surgeries.
She was started on micafungin, a potent 1,3-β-D glucan synthase inhibitor, to broaden antimicrobial coverage when her insulin requirement decreased to zero for >48 hours. Right after discontinuation of micafungin and switching to a different antifungal, insulin requirements increased back to her baseline needs.
Read Also: BCG vaccine- a safe future treatment for even advanced Type 1 diabetes
The authors hypothesized that micafungin may inhibit SGLT-1 function and decrease insulin requirements in the patient with T1DM.
"This is the first report of decreased insulin requirements in a patient with T1DM correlating with micafungin administration. The mechanism of micafungin-induced hypoglycemia is not yet established. Oral administration of linear 1,3-β-D glucan has been documented to significantly decrease blood glucose levels by inhibiting expression of sodium-glucose transporter-1 (SGLT1) in the intestinal mucosa," write the authors.
According to WHO, the number of people with diabetes has risen from 108 million in 1980 to 422 million in 2014. The global prevalence of diabetes among adults over 18 years of age has risen from 4.7% in 1980 to 8.5% in 2014 and has been rising more rapidly in middle- and low-income countries.
For full information log on to https://doi.org/10.1210/jc.2018-02017