First 5G surgery performed, a step towards remote robotic surgeries in future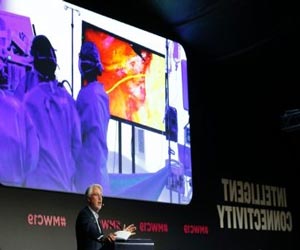 Its a next-generation wireless technology displayed at Mobile World Congress (MWC) in Barcelona, in a first of its kind doctor Antonio de Lacy remotely guided a surgical team at a hospital three miles away through an operation.
It is a momentous occasion which is going to bring the medical world a crucial step closer to robots performing remotely-controlled surgery. Surgical telementoring is a concept within telemedicine that involves the use of information technology to provide real-time guidance and technical assistance for surgical procedures from an expert physician at a different geographical location.
In the instant case, the telemonitoring instructions have been delivered over a blazing fast 5G connection, which allowed them to arrive in almost real-time — an important milestone along the path to remotely controlled robot surgeons. This is really important for medical teams to make decisions with as much information, and a few mistakes, as possible.5G greatly reduces latency - the time it takes to get a response to information sent - of wireless networks so images and data are relayed almost instantly.

"This is the first step to achieve our dream, which is to make remote operations in the near future," said Doctor Antonio de Lacy, after providing real-time guidance via a 5G video link from a Barcelona congress centre to a surgical team which operated on a patient with an intestinal tumour about five kilometres away at the Hospital Clinic.
A 4G wireless network, the kind currently used in most developed nations, has a lag time of .27 seconds, while the 5G connection de Lacy used had a latency period of just .01 seconds, according to a story by AFP.

De Lacy, the head of the hospital's gastrointestinal surgery service, used his finger to draw on a screen an area of the intestine where nerves are located and instructed the team how to navigate the surgery.

This is a technology of future if we want experts to remotely control robot surgeons — a capability that would eliminate many of the geographical and logistical barriers currently preventing some patients from getting the surgeries they need.