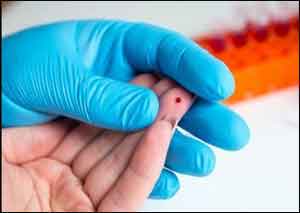 A new study shows that patients with rheumatoid arthritis and other autoimmune conditions who take the drug adalimumab can monitor drug levels in their bodies with a finger prick rather than undergoing a full blood draw.
Adalimumab standard dosing can result in insufficient clinical response or overtreatment in a large proportion of patients (1-4). Several circumstances can affect clinical efficacy, ranging from undetectable drug concentrations due to immunogenicity, to serum trough concentrations substantially above the threshold necessary for complete target blockade (1-8). Therefore, it seems logical to use a personalised dosing scheme based on drug concentration and disease activity.
This method offers the opportunity to simplify therapeutic drug monitoring of adalimumab.
"Easy home sampling at different time points will benefit patients and could help to prescribe biologics optimally," said Dr. Karien Bloem, senior author of the British Journal of Clinical Pharmacology study.
We show here for the first time that adalimumab and ADA serum concentrations can be satisfactorily estimated by measuring concentrations in DBS eluates, collected by finger prick. This method offers great opportunity to simplify TDM of adalimumab