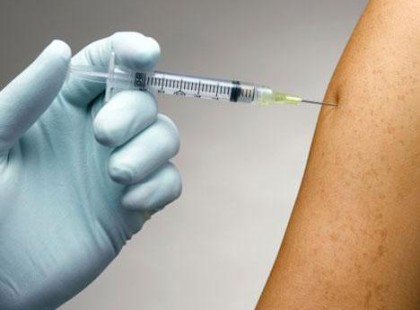 It is a welcome relief to medical profession that after four unsuccessful attempts finally a vaccine against gonorrhoea is on the anvil.This is vital  especially in the wake of  warning  of World Health Organization regarding gonorrhoea developing resistance against antibiotics and  becoming untreatable. This will certainly help in  stopping the global spread of "super-gonorrhoea".
In a case-control study in New Zealand ,Helen Petousis-Harris et al found that in a  mass vaccination campaign against meningitis B there was an unexpected  drop in gonorrhea incidence
In a  study of 15,000 young people, published in the Lancet, it was shown that gonorrhea  infections were cut by about a third.
The vaccine, originally developed to stop an outbreak of meningitis B, was given to about a million adolescents in New Zealand between 2004 and 2006.
The researchers at the University of Auckland analysed data from sexual health clinics and found gonorrhoea cases had fallen 31% in those vaccinated.
In fact the causative organism of  meningitis, Neisseria meningitidis, is a very close relative of the species that causes gonorrhoea – Neisseria gonorrhoeae.
The vaccine used in New Zealand, dubbed MeNZB, was developed to control an epidemic of meningitis B in that country and was delivered in a mass campaign aimed at people younger age than 20 from mid-2004 through mid-2006. The vaccine was available until 2008 and it appears the Men B injection was giving "cross-protection" against gonorrhoea.
In the study the cases were defined as those with gonorrhea alone, while controls were those diagnosed with chlamydia alone and Co-infected patients were assigned to one group or the other in sensitivity analyses.
The study invoved  11 clinics and  had in total  15,067 individuals — 15,090 with chlamydia, 1,759 with gonorrhea, and 1,329 with both — over the study period from 2004 through 2014. After excluding those with repeat disease or gaps in data, the researchers were left with 1,241 cases, 12,487 controls, and 1,002 co-infected people.
The investigators found that vaccinated individuals were significantly less likely to be cases than controls — 511 of 1,241 cases (41%) versus 6,424 of 12,487 controls (51%). The
The difference led to an adjusted odds ratio of 0.69 (95% CI 0.61-0.79), which was statistically significant and the ratio, after adjustment for ethnicity, socio-economic deprivation, geographical area, and sex, led to an estimated vaccine effectiveness of MeNZB against gonorrhea of 31% (95% CI 21%-39%).
Dr.Helen Petousis-Harris, one of the researchers, said: "This is the first time a vaccine has shown any protection against gonorrhoea.
"At the moment, the mechanism behind this immune response is unknown, but our findings could inform future vaccine development."
The protection provided by vaccine seems to last about two years.But there are
certain questions that still need to be answered and they are:
Whether the vaccine effect varies with different strains of N. gonorrhoeae
How close is the homology between the two pathogens
Whether OMV vaccines generate mucosal immunity, since gonorrhea is primarily a mucosal infection
The study was supported by GSK Vaccines (formerly Novartis Vaccines and Diagnostics).
Petousis-Harris disclosed relevant relationships with GlaxoSmithKline, Merck, and Pfizer.
Seib disclosed support from the Australian National Health and Medical Research Council.
To read the full article click on the following link :  Petousis-Harris H, et al "Effectiveness of a group B outer membrane vesicle meningococcal vaccine against gonorrhea in New Zealand: a retrospective case-control study" Lancet Inf Dis 2017; DOI:10.1016/S0140-6736(17)31449-6.