Fetal Echocardiography: Role in ante-natal screening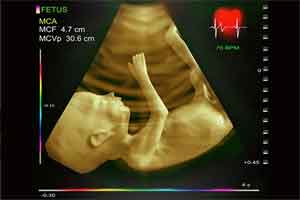 8 out of every 1000 live births are having some congenital heart defect. 180,000 children are born with CHD annually in our India. 10% of infant mortality is attributed to CHD due to numerous shortcomings in the management and care provided to this group of babies. Echocardiography is considered the diagnostic modality of choice in new-borns and the only diagnostic modality of CHD in the fetus.
Advancement of knowledge and techniques of fetal ultrasound, fetal echocardiography has become an important investigation both in developed nations and the developing once. Diagnosis of CHD during fetal life not only identifies the heart lesion early during pregnancy but may also lead to suspicion and detection of abnormalities associated with syndromes. It makes the appropriate parental counseling about the disease condition feasible. It also helps in delivery planning and immediate postnatal management to optimize the outcomes to the best.
Literature reveals studies supporting reduced morbidity, following antenatal diagnosis of complex cardiac lesions. Whether fetal cardiac screening modifies neonatal outcomes remains unknown in the developing countries.In our country, fetal echocardiography is not widely available presently. Only 1%–2% of pregnancies currently avail fetal echocardiography, that too in the metro cities of our country. In India, <10% of neonates with critical cardiac lesions undergo timely detection and operative treatment, so, the impact of fetal echocardiography is expected to be more pronounced than those countries with active neonatal screening available. Antenatal diagnosis of CHD is expected to be associated with planned delivery at a tertiary center with cardiac services which in turn will lead to a reduction in mortality and morbidity.
Recently a study was done at a tertiary care pediatric cardiology center at Mumbai; it was found that neonates diagnosed antenatally by fetal echocardiography presented to the hospital much earlier and that too in a better condition as compared to those diagnosed after birth.
A better understanding of the disease is obtained, both by the caregivers and takers, when a prenatal diagnosis is made. It makes sure that prenatal management if possible and delivery of the baby can be performed safely at a center. There are several causes of delay in seeking medical help in our country. This can be due to delay in diagnosis, referral, financial, and social hindrances. Acceptance of the condition by the parents, arrangement of funds, travel from a peripheral area to a tertiary center, delays the presentation further. These children mostly present after the closure of ductus arteriosus (which is the lifesaving duct), resulting in hemodynamic instability and hence unfavorable outcomes subsequently.
Foetal echocardiogram followed by expertise counseling can improve outcomes. Antenatal diagnosis is the hour's need, owing to the absence of newborn screening, limited availability of echocardiogram in NICUs and transport facility. Early intrauterine referral and planned deliveries with multidisciplinary approach could ensure timely care to the newborn, which is the most important thing we all are striving.
Source: Gupta A, Kapoor A, Phadke S, Sinha A, Kashyap S, Khanna R, et al. Use of strain, strain rate, tissue velocity imaging, and endothelial function for early detection of cardiovascular involvement in patients with beta-thalassemia. Ann Pediatr Card 2017;10:158-66.
Dr. Murtaza Kamal
The author is MD, DNB (Pediatrics ) Senior Resident Dept of Pediatrics, Child Health at Vardhman Mahavir Medical College & Safdarjung Hospital New Delhi. He is a member Editorial Board, Pediatrics at Specialty Medical Dialogues.