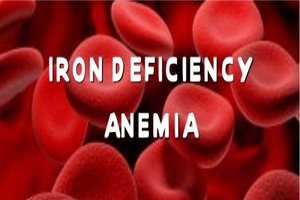 Iron deficiency is the most common cause of anemia in women who are of reproductive age and are particularly at risk owing to blood loss or increased iron demand attributed to menstruation, pregnancy, and lactation. It is associated with adverse effects on cognitive function, physical activity, immune response, and pregnancy outcome. The World Health Organization defines IDA as hemoglobin < 12.0 g/dL in women who are not pregnant and <11.0 g/dL in women who are pregnant.Dr Garima Chaudhry from the Department of Obstetrics and Gynaecology at Lady Hardinge Medical College, West Delhi, Delhi, India and colleagues conducted a study and found that Intravenous infusions of ferric carboxymaltose (FCM) may increase haemoglobin (Hb) levels in women with iron deficiency anaemia (IDA).The study has been presented at the RCOG World Congress 2018 held in Singapore.
The researchers randomized Sixty women with IDA (aged >18 years, Hb level 6–8 g/dL, serum ferritin level <15 ng/mL)   in a 1:1 ratio to receive FCM (two infusions of 500 mg) or iron sucrose complex (ISC; five infusions of 200 mg) intravenously for 2 weeks. IDA was determined in patients using microcytic hypochromic peripheral smear or by low serum ferritin levels, while the Ganzoni formula was used to calculate iron deficit. Patients were followed up every 7, 14, 21, and 28 days.
At 28 days follow-up, Hb levels increased by 3.17 g/dL from baseline among patients in the FCM treatment arm (n=19).Compared with women given ISC, those who received FCM had higher Hb (10.14 vs 8.88 g/dL; p=0.001) and serum ferritin levels (147.70 vs 98.03 µg/L; p=0.001).In addition, mean corpuscular haemoglobin values were also higher among women on FCM compared with ISC at 28 days (33.02 vs 29.32 pg; p=0.001).
The researchers found that more women treated with FCM achieved a normal mean corpuscular volume (≥80.00 fL) compared with those treated with ISC (100 percent, increase from 70.14 to 84.35 fL vs 43.33 percent, increase from 69.94 fL to 78.91 percent) at 28 days of follow-up.The increase in aspartate transaminase and alanine transaminase levels was comparable between the FCM and ISC treatment groups.Most women in the ISC treatment group had at least one adverse event. There was a higher incidence of a headache and dizziness among women treated with FCM and a significantly lower incidence and severity of thrombophlebitis was observed in women treated with ISC.
"Intravenous FCM is more effective and safer … [for] the treatment of IDA in women," said lead author Dr Garima Chaudhry from the Department of Obstetrics and Gynaecology at Lady Hardinge Medical College, West Delhi, Delhi, India.
"The molecular structure of FCM ensures controlled delivery of iron within cells of the reticuloendothelial system and subsequent delivery to the iron binding proteins ferritin and transferrin, with minimal risk of release of large amounts of ionic iron in the serum," Chaudhry noted.