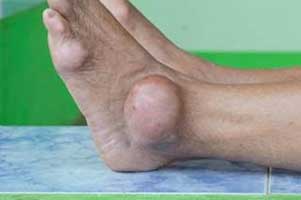 Fenofibrate associated with lower risk for incident gout among patients with type 2 diabetes, according to a study published in the Lancet Diabetes & Endocrinology. Fenofibrate lowered uric acid concentrations by 20%, and almost halved first on-study gout events over 5 years of treatment.
Gout is a common and complex form of arthritis that can affect anyone. It's characterized by sudden, severe attacks of pain, swelling, redness, and tenderness in the joints, often the joint at the base of the big toe.
Boris Waldman and his associates conducted a study to find the efficacy of fenofibrate in sustained reduction of the uric acid level and gout attacks in T2D patients.
Fenofibrate Intervention and Event Lowering in Diabetes (FIELD) trial was done by the researchers which involved 9795 participants aged 50–75 years with type 2 diabetes and were randomly assigned to receive either co-micronised fenofibrate 200 mg once per day or matching placebo for a median of 5 years follow-up.
The outcomes of this analysis changed in uric acid concentrations and risk of on-study gout attacks.
The study found after 6 weeks showed that uric acid concentrations fell by 20·2%. and at 1 year, levels remained 20% lower in the fenofibrate group than placebo group. With placebo allocation, there were 151 first gout events over 5 years, compared with 81 among those allocated fenofibrate.
The researchers said that the smaller impact of fenofibrate in patients on allopurinol suggests that fenofibrate may act by increasing the excretion of oxypurinol, an active metabolite of allopurinol, an action similar to that of other uricosuric drugs with gout-specific indications. However, no signs of uric acid renal stones, an adverse effect of uricosuric drugs, was  found in patients on fenofibrate
The study concluded that Fenofibrate, indicated in type 2 diabetes for lipid management could be a valuable adjunct to reduce gout in individuals with type 2 diabetes.
For more reference log on to: https://doi.org/10.1016/S2213-8587(18)30029-9