Fenofibrate may prevent gout in type 2 diabetes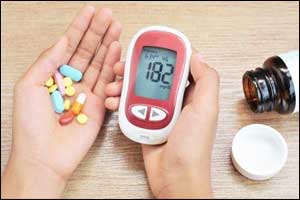 Gout is a common and complex form of arthritis that can affect anyone and is common in type 2 diabetes. Fenofibrate has been found to lower uric acid and reduce gout attacks in small, short-term studies.Boris Waldman and associates conducted a randomised, controlled FIELD study to find out whether fenofibrate produces sustained reductions in uric acid and gout attacks or not.The researchers found that Fenofibrate is associated with lower risk for incident gout among patients with type 2 diabetes and could be a useful adjunct for preventing gout in type 2 diabetes.The study has been published in the Lancet Diabetes & Endocrinology.
In the Fenofibrate Intervention and Event Lowering in Diabetes (FIELD) trial,nearly 10,000 patients aged 50–75 years with type 2 diabetes were randomly assigned to receive either co-micronised fenofibrate 200 mg once per day or matching placebo for a median of 5 years follow-up. In this post-hoc analysis, researchers looked at the change in uric acid concentrations and risk of on-study gout attacks.
The researchers found that after 6-weeks' run-in, uric acid levels had fallen by 20% with fenofibrate, and at 1 year, levels remained 20% lower in the fenofibrate group than placebo group. During 5 years' follow-up, patients in the placebo group were more likely than fenofibrate recipients to have a first episode of gout (3.1% vs. 1.7%). An estimated 71 patients would need to be treated to prevent one gout episode.For participants with elevated baseline uric acid concentrations despite taking allopurinol at study entry, there was no heterogeneity of the treatment effect of fenofibrate on gout risk. Taking account of all gout events, fenofibrate treatment halved the risk (HR 0·48, 95% CI 0·37–0·60; p<0·0001) compared with placebo.
Fenofibrate lowered uric acid concentrations by 20%, and almost halved first on-study gout events over 5 years of treatment. Therefore the authors concluded that Fenofibrate, which has existing indications in type 2 diabetes for lipid management and, in some countries, for treatment of retinopathy could be a useful adjunct for preventing gout in type 2 diabetes.
For further reference log on to :
DOI:
https://doi.org/10.1016/S2213-8587(18)30029-9