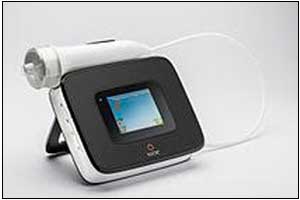 New clinical guidelines by the UK's National Institute for Health and Care Excellence (NICE)  recommend the use of fractional exhaled nitric oxide (FeNO) testing as part of asthma diagnosis.  
The World Health Organisation estimates that 235 million people have asthma worldwide.
Asthma is a chronic inflammatory respiratory disease, but many diseases present with symptoms similar to those seen in asthma, making diagnosis a challenge for healthcare professionals. In fact, studies of adults diagnosed with asthma suggest that up to 30% do not have clear evidence of asthma* Some may have had asthma in the past, but it is likely that many have been given an incorrect diagnosis. Conversely, other studies suggest that asthma may be underdiagnosed in some cases. Understanding whether airway inflammation is present can help rule out these conditions and support a diagnosis of asthma.
During inflammation, higher-than-normal levels of nitric oxide (NO) are released from epithelial cells of the bronchial wall. The concentration of NO in exhaled breath, or fractional exhaled nitric oxide (FeNO), can help identify airway inflammation, and thereby support a diagnosis of asthma when other objective evidence is lacking.
The new NICE guidelines* issued today recommend the use of FeNO testing as part of comprehensive diagnostic algorithms for adults, children and young people.  In particular, NICE recommends FeNO testing for adults when a diagnosis of asthma is being considered, and consideration of a FeNO measurement in children and young people if there is diagnostic uncertainty after initial assessment and normal spirometry or obstructive spirometry with negative bronchodilator reversibility. Additionally, the health economic model included in the guidelines concluded that FeNO testing was part of the most cost-effective diagnostic pathway for adults.  Regarding monitoring of asthma control, it was also noted that FeNO should be considered as an option for patients who remain symptomatic on inhaled corticosteroids as a method to support asthma management. A FeNO level of 40 parts per billion (ppb) or more is a positive test in adults whereas a  FeNO level of 35 parts per billion is considered positve in children.
In order to conduct FeNO testing, Circassia's NIOX® products are novel point-of-care FeNO measurement devices, which are available in many countries across Europe, including the UK, as well as the United States, China, Japan and a range of other territories.
Marc Massanari, Vice President of Medical Affairs said: "We are delighted that NICE has recognized the clinical value of FeNO testing in the diagnosis of asthma and its role in providing an objective measure of airway inflammation. Furthermore, NICE has provided compelling evidence that supports the cost-effectiveness of incorporating FeNO into diagnostic algorithms for asthma."
Carol Stonham, Senior Nurse Practitioner Respiratory at Gloucestershire CCG, said: "FeNO testing is a very useful part of the jigsaw when a diagnosis of asthma is not clear. It provides useful additional evidence about eosinophilic airway inflammation which supports diagnosis and engages and educates the patient on the journey of a long-term condition. It also gives confidence to both healthcare professional and patient when considering a step down in treatment and can be a helpful conversation opener into issues around poor compliance with inhaled corticosteroids. "