FENO-guided asthma management during pregnancy reduces asthma risk in kids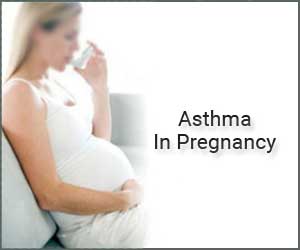 FENO-guided asthma management during pregnancy of asthmatic mothers reduced chances of having asthma in offsprings at preschool age.
A MAP-trial in Newcastle, Australia, has revealed a 50% reduction in chances of having an asthma exacerbation in the offsprings at preschool going age when mothers used the fraction of exhaled nitric oxide (FENO). The study appeared in the Journal of Allergy and Clinical Immunology.
Fractional exhaled nitric oxide (FeNO) is a test which is used to detect airway inflammation. High FeNO in the breath of patients with symptoms of asthma is correlated with eosinophilic airway inflammation (a distinct corticosteroid-responsive phenotype of asthma). Noninvasive markers are an attractive way to modify therapy since they offer an improved selection of active treatments based on individual response, treatment titration using markers gives better treatment outcomes.
The study was conducted by researchers of Priority Research Centre GrowUpWell, University of Newcastle, Newcastle, Australia, led by Matthew Morten, The researchers conducted a single-center double-blind, randomized controlled Managing Asthma in Pregnancy (MAP) trial in Newcastle, Australia to compared the treatment algorithm using the fraction of exhaled nitric oxide (FENO) in combination with asthma symptoms (FENO group) against a treatment algorithm using clinical symptoms only (clinical group) in pregnant asthmatic women.
In this trial, 179 mothers consented to participate in the Growing into Asthma (GIA) double-blind follow-up study with the primary aim to determine the effect of FENO-guided asthma management on childhood asthma incidence.
A total of 140 children were followed up at 4 to 6 years of age. FENO-guided as compared to symptoms-only approach significantly reduced doctor-diagnosed asthma. Furthermore, frequent wheeze, use of short-acting β-agonists, and emergency department visits for asthma in the past 12 months were less common in children born to mothers from the FENO group. Doctor-diagnosed asthma was associated with common risk alleles for early-onset asthma at gene locus 17q21, and higher airways resistance and FENO levels.
The researchers found a 50% reduction in asthma exacerbations in the offsprings of mothers who had FENO intervention during pregnancy. FENO-guided asthma management during pregnancy prevented doctor-diagnosed asthma in the offspring at preschool age.
Read more about this article on
https://doi.org/10.1016/j.jaci.2018.02.039