................................ Advertisement ................................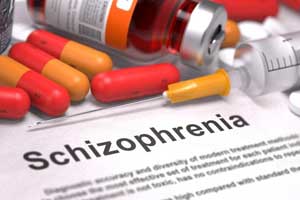 The female sex hormone estrogen may be a potential new treatment for schizophrenia, suggests recent research.
The study, presented at the American Psychiatric Association (APA) 2019 annual meeting found that the addition of estrogen reduced schizophrenia symptoms in a dose-dependent and statistically significant manner compared with stand-alone antipsychotic treatment.
Previous research has suggested overall estrogen levels are typically lower in women with schizophrenia compared with their counterparts without the disorder. Viviana Alvarez Toro, residents at the University of Maryland/Sheppard Pratt Psychiatry Residency Program, Baltimore, and colleagues conducted this systematic literature review to examine the effects of adjunctive estrogen in adult women and compared it to stand-alone treatments with antipsychotics — the current standard of care.
................................ Advertisement ................................
For the review, only randomized controlled trials (RCTs) were selected. The final analysis was based on six RCTs with a total of 426 adult women diagnosed with schizophrenia using DSM criteria. These trials were also limited to studies that used evidenced-based scales, such as the Positive and Negative Syndrome Scale (PANSS) or Brief Psychiatric Rating Scale (BPRS), to measure positive and negative symptoms of schizophrenia.
................................ Advertisement ................................
The primary outcome was a reduction of positive and negative symptoms of schizophrenia as measured by the PANSS and the BPRS symptoms scales.
Also Read: Low estrogen levels around menopause may be cause of chronic pain in women
Key Findings:
All of the studies that measured symptoms using PANSS showed statistically significant reductions in total scores for women treated with estrogen compared with women treated solely with an antipsychotic.
The review also showed that as estrogen doses increased, there was a larger reduction in total PANSS scores.
The single study that measured symptoms using the BPRS showed a non-statistically significant trend toward reductions in total scores for participants treated with estrogen compared with those treated with antipsychotic monotherapy.
Estrogen as an adjunctive treatment for women with schizophrenia appears to reduce positive and negative symptoms in a dose-dependent manner.
Also Read: New study examines the way estrogen affects methamphetamine addiction
While there are no clinical implications at this point, Alvarez Toro added that the findings definitely warrant further study in larger and diverse populations.
Dysregulated gonadal hormones are a common feature of the disease apart from treatment. Estrogen and the stress hormone cortisol have an inverse relationship and that stress is commonly elevated in women with schizophrenia, which, in turn, reduces estrogen levels.
Previous research has shown that estrogen has been associated with an elevated risk of cancer and can increase blood pressure.
Medha Baranwal joined Medical Dialogues as an Editor in 2018 for Speciality Medical Dialogues. She covers several medical specialties including Cardiac Sciences, Dentistry, Diabetes and Endo, Diagnostics, ENT, Gastroenterology, Neurosciences, and Radiology. She has completed her Bachelors in Biomedical Sciences from DU and then pursued Masters in Biotechnology from Amity University. She has a working experience of 5 years in the field of medical research writing, scientific writing, content writing, and content management. She can be contacted at medha@medicaldialogues.in. Contact no. 011-43720751
To know about our editorial team click here
................................ Advertisement ................................