Female Libido Treatment- Flibanserin Relaunched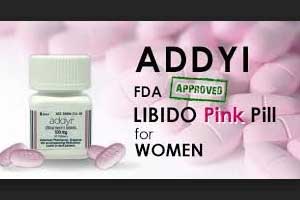 Addyi (flibanserin), the first FDA-approved libido treatment for hypoactive sexual desire disorder (HSDD) in premenopausal women, will be relaunched with a new, reduced price, announced the drug's manufacturer Sprout Pharmaceuticals.
Addyi is the first and only FDA approved treatment for acquired, generalized hypoactive (low) sexual desire disorder in women who have not gone through menopause. Symptoms of HSDD include low libido and associated distress.
Addyi is a once-daily, non-hormonal drug that is the first post-synaptic 5HT1A receptor agonist and 5HT2A receptor antagonist available for female HSDD.
Addyi is a prescription non-hormonal pill taken every day at bedtime. Addyi is believed to work by restoring prefrontal cortex control over the brain's motivation/rewards structures enabling sexual desire to manifest. However, its exact mechanism of action is not fully understood. In clinical studies with Addyi, some women experienced improvement in one or more of their HSDD symptoms, including:


Increased sexual desire


Decreased distress associated with low sexual desire


Addyi was first launched in 2015. However, the approval by FDA was not an easy going as FDA reviewed the safety and efficacy of the drug thrice before giving the final approval. The treatment carries a Boxed Warning for an increased risk of severe hypotension and syncope when taken with alcohol.
The efficacy of Addyi for the treatment of HSDD in premenopausal women was established in three 24-week, randomized, double-blind, placebo-controlled trials. The 3 trials included premenopausal women with acquired, generalized HSDD of at least 6 months' duration. The patients got treated with Addyi 100 mg once daily at bedtime or placebo .
For the relaunch, Sprout is incorporating a telemedicine system. Telemedicine is a significant and rapidly growing component of health care in the United States that allows health care professionals to evaluate, diagnose and treat patients at a distance using telecommunications ( phone/computer) technology. Every doctor you interact with is licensed to treat patients.
Addyi (Flibanserin) should not be used to treat low sexual desire caused by a mental/mood disorder, problems in the relationship, or the effects of other drugs. This medication should not be used by women who have gone through menopause, or by men. Flibanserin is not used to enhance sexual performance.
The new price will be $400, down from $800 for a monthly prescription. At present, Addyi has no competitors but it may not be for the longer duration. The FDA said it will decide by March 2019 whether to approve a drug that treats the same condition. That drug, bremelanotide, is under development by AMAG Pharmaceuticals Inc. If approved, it would be taken as-needed rather than daily medication.
Source : press release