Febuxostat improves hyperlipidemia in addition to lowering uric acid in gout patients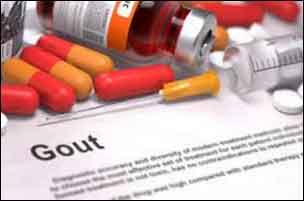 China: Febuxostat -- Uric acid‐lowering therapy (UALT) therapy in gout patients improves serum cholesterol and triglyceride levels compared to allopurinol and benzbromarone, according to a recent study published in the International Journal of Rheumatic Diseases.
Gout is the most common inflammatory arthritis affecting 2.4% of adults and typically affects older populations. It is caused by the accumulation of uric acid in the joint. Gouty patients have high levels of hypercholesterolemia and hypertriglyceridemia, and gout control may benefit from cholesterol and triglyceride therapy.
The most common urate‐lowering medication, allopurinol, causes severe and frequent adverse reactions, including Stevens-Johnson syndrome and drug hypersensitivity syndrome. Benzbromarone is a popular treatment option in China, however, it is not recommended for patients with liver and renal insufficiency due to its high metabolism in the liver. Febuxostat is a non‐purine xanthine oxidase inhibitor that is approved in China, Europe and the U.S. for gout treatment. The safety and efficacy of febuxostat have been shown in may studies, but there is limited information on its effectiveness in gouty patients with hypertriglyceridemia or hypercholesterolemia.
Jing Wu, Zhujiang Hospital, Southern Medical University, Guangzhou, China, and colleagues conducted the study to investigate the effects on hypercholesterolemia and hypertriglyceridemia in gouty patients receiving uric acid‐lowering therapy.
The researchers performed a retrospective study from January 2015 to December 2017 in gouty patients receiving UALT. 124 gouty patients with hypercholesterolemia or hypertriglyceridemia who received UALT were monitored.
A total of 52, 29 and 43 patients were treated with febuxostat, allopurinol, and benzbromarone, respectively, and their efficiency was compared. Cholesterol and triglyceride levels were recorded and analyzed following treatment for 8‐10 weeks.
Also Read: Gout patients at increased risk of VTE independent of urate-lowering therapy
Key findings of the study include:


Every UALT therapy mildly influenced serum cholesterol and triglyceride levels.


Febuxostat significantly decreased cholesterol and triglyceride levels in patients who did not receive lipid‐lowering therapy.


Allopurinol and benzbromarone modestly decreased triglyceride levels, but cholesterol levels were unaffected.


Also Read: Despite readily available treatment, gout remains under-treated, finds study
"In gouty patients, uric acid-lowering therapy benefited hyperlipidemia. In comparison with allopurinol and benzbromarone, febuxostat efficiently improved serum cholesterol and triglyceride levels in patients with gout," concluded the authors.
To read the complete study log on to
https://doi.org/10.1111/1756-185X.13652