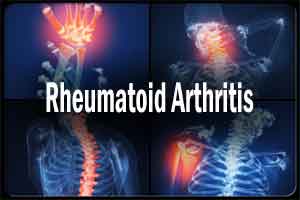 Food and Drug Administration has approved JAK Kinase Inhibitor Drug, Upadacitinib for Moderate to Severe Rheumatoid Arthritis.
The U.S. Food and Drug Administration (FDA) has approved a Janus kinase (JAK) inhibitor drug for moderate to severe Rheumatoid Arthritis. 15 mg of RINVOQ™ (upadacitinib) once-daily oral is approved for the treatment of adults with moderately to severely active rheumatoid arthritis (RA) who have had an inadequate response or intolerance to methotrexate (MTX-IR). RINVOQ is expected to be available in the U.S. in late August 2019.
RINVOQ is an oral, small-molecule JAK inhibitor being studied for moderately to severely active rheumatoid arthritis and other immune-mediated diseases. RINVOQ is under review by the European Medicines Agency (EMA), as well as regulatory authorities in Canada and Japan, for the treatment of adult patients with moderately to severely active RA.
The Food and Drug Administration approval of RINVOQ is supported by data from the SELECT program, one of the largest registrational Phase 3 programs in RA with approximately 4,400 patients evaluated across all treatment arms in five studies. The studies include assessments of efficacy, safety, and tolerability across a variety of RA patients, including those who failed or were intolerant to biologic disease-modifying anti-rheumatic drugs and who were naïve or inadequate responders to methotrexate. RINVOQ is not indicated for methotrexate-naïve patients.
"Despite the availability of multiple treatment options with varying mechanisms of action, many patients still do not achieve clinical remission or low disease activity—the primary treatment goals for rheumatoid arthritis," said Roy M. Fleischmann, M.D., primary investigator for SELECT-COMPARE and clinical professor at the University of Texas Southwestern Medical Center at Dallas. "With this FDA approval, RINVOQ has the potential to help additional people living with RA achieve remission who have not yet reached this goal."
Across the SELECT Phase 3 studies, RINVOQ met all primary and ranked secondary endpoints. The primary endpoints include:
In SELECT-EARLY, 52 per cent of MTX-naïve patients treated with RINVOQ 15 mg achieved ACR50 vs 28 per cent treated with MTX at week 121
In SELECT-MONOTHERAPY, 68 per cent of MTX-IR patients treated with RINVOQ 15 mg achieved ACR20 vs 41 per cent treated with continued MTX at week 14
In SELECT-COMPARE, 71 per cent of MTX-IR patients treated with RINVOQ 15 mg plus MTX achieved ACR20 vs 36 per cent treated with placebo plus MTX at week 12
In SELECT-NEXT, 64 per cent of csDMARD-IR patients treated with RINVOQ 15 mg plus csDMARDs achieved ACR20 vs 36 per cent treated with placebo plus csDMARDs at week 12
In SELECT-BEYOND, 65 per cent of biologic-IR patients treated with RINVOQ 15 mg plus csDMARDs achieved ACR20 vs 28 per cent treated with placebo plus csDMARDs at week 12
"The discovery and development of RINVOQ are indicative of AbbVie's long-standing commitment to advancing the science for people living with immune-mediated conditions," said Michael Severino, M.D., vice chairman and president, AbbVie. "Today's FDA approval marks an important milestone in our pursuit to deliver innovative medicines
that advance care for people living with rheumatoid arthritis."
Radiographic Inhibition
RINVOQ significantly inhibited radiographic progression as measured by the change in modified total Sharp score (mTSS) from baseline compared to methotrexate in SELECT-EARLY (0.14 vs 0.67) and RINVOQ plus methotrexate compared to placebo plus methotrexate in SELECT-COMPARE (0.15 vs 0.78) through weeks 24 and 26, respectively.1
Safety
The most common side effects associated with RINVOQ include upper respiratory tract infections (common cold, sinus infections), nausea, cough, and pyrexia.
Patients treated with RINVOQ are at increased risk for developing serious infections that may lead to hospitalization or death. These infections include tuberculosis (TB), invasive fungal, bacterial, viral, and other infections due to opportunistic pathogens.
Most patients who developed these infections were taking concomitant immunosuppressants such as methotrexate or corticosteroids.
Lymphoma and other malignancies have been observed in RINVOQ-treated patients. 
Thrombosis, including deep vein thrombosis, pulmonary embolism, and arterial thrombosis, have occurred in patients treated with JAK inhibitors used to treat inflammatory conditions.
Patients treated with RINVOQ also may be at risk for other serious adverse reactions, including gastrointestinal perforations, neutropenia, lymphopenia, anemia, lipid elevations, liver enzyme elevations, and embryo-fetal toxicity.
"Rheumatoid arthritis can have a debilitating impact on the lives of those with the chronic disease, including making it difficult to perform everyday tasks," said Cindy McDaniel, senior vice president, consumer health, Arthritis Foundation. "The Arthritis Foundation is committed to recognizing the innovation that can help patients living with rheumatoid arthritis and we are proud to recognize AbbVie with our Ease of Use Commendation for the packaging design of RINVOQ."
What is the most important information I should know about RINVOQ?
RINVOQ is a medicine that can lower the ability of the immune system to fight infections. You should not start taking RINVOQ if you have any kind of infection unless your healthcare provider (HCP) tells you it is okay.
Serious infections have happened in some people taking RINVOQ, including tuberculosis (TB) and infections caused by bacteria, fungi, or viruses that can spread throughout the body. Some people have died from these infections. Your HCP should test you for TB before starting RINVOQ and check you closely for signs and symptoms of TB during treatment with RINVOQ. You may be at higher risk of developing shingles (herpes zoster).
Lymphoma and other cancers, including skin cancers, can happen in people taking RINVOQ.
Blood clots in the veins of the legs or lungs and arteries are possible in some people taking RINVOQ. This may be life-threatening and cause death.
Tears in the stomach or intestines and changes in certain laboratory tests can happen. Your HCP should do blood tests before you start taking RINVOQ and while you take it. Your HCP may stop your RINVOQ treatment for a period of time if needed because of changes in these blood test results.