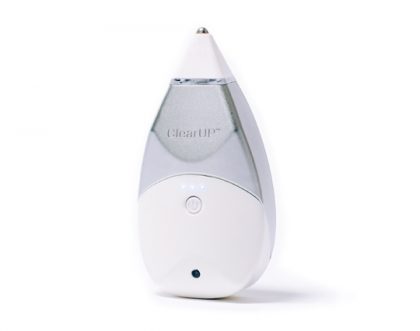 The US Food and Drug Administration (FDA) has approved  ClearUP Sinus Pain Relief for the treatment of sinus pain due to allergic rhinitis in adults aged ≥18 years.
ClearUP Sinus Pain Relief is a is a first-in-class bioelectronic treatment and a new way to treat allergy-related sinus pain from environmental allergies like mould, dust, pollen, dander as well as food allergies. The first of its kind, this advanced neuromodulation technology uses gentle microcurrent.
The handheld device measures the user's skin properties to target the optimal treatment points. As the user glides the device along the outer nasal passage (cheek, nose, and brow bone), gentle microcurrent waveforms stimulate the nerves under the skin to relieve sinus pain. Each 5-minute treatment can be personalized at 3 intensity levels and can be used up to 4times a day.
................................ Advertisement ................................
................................ Advertisement ................................
ClearUP™ Sinus Pain Relief is a microcurrent therapy for sinus pain. As the device glides along the cheek, nose, and brow bone, it locates areas of the skin with low impedance, where current can pass most easily. At these treatment points, the device emits low-current electrical stimulation, called Microcurrent, to stimulate underlying nerve fibres. The trigeminal nerve, which transmits pain and sensation signals from the sinuses and nasal cavity, has branches that are found in the facial skin.
Electrical stimulation of nerves has been used to reduce the sensory perception of pain. Research has also shown that electrical stimulation can activate sympathetic nerve fibres and promote constriction of blood vessels, which can result in the shrinking swollen tissue.
A double-blind, randomized controlled trial (N=71) evaluated the effect of microcurrent waveforms on sinus pain. The data showed 3 out of 4 users (74%) experienced sinus pain relief after 1 use and 82% of users preferred ClearUP over their current treatment(s).
For the many patients suffering from allergy-related sinus pain, we now have an effective treatment option that does not involve pills, a spray or nasal flush, surgery or opioids. ClearUP is an important new option that is drug-free, side-effect free and non-invasive," added Subinoy Das, MD, FACS, FARS, CEO and Medical Director for the US Institute for Advanced Sinus Care and Research; and a member of Tivic Health's Medical Advisory Board.
The ClearUP device will be available over-the-counter (OTC) by mid-2019.
Hina Zahid Joined Medical Dialogue in 2017 with a passion to work as a Reporter. She coordinates with various national and international journals and association and covers all the stories related to Medical guidelines, Medical Journals, rare medical surgeries as well as all the updates in the medical field. Email: hina@medicaldialogues.in. Contact no. 011-43720751
To know about our editorial team click here