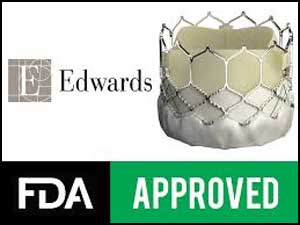 The U.S. Food and Drug Administration, FDA has approved the latest generation Sapien 3 device, Ultra, for transcatheter aortic valve replacement (TAVR). Edwards Lifesciences has announced that the device has been approved for transcatheter aortic valve replacement in severe, symptomatic aortic stenosis patients who are determined to be at the intermediate or greater risk of open-heart surgery.
The Ultra model comes in 20, 23, and 26 mm sizes. New features include a heightened outer skirt to reduce paravalvular leak as well as a new delivery system and 14-French Axela expandable sheath with an "on balloon" design that makes valve alignment unnecessary.
"The advanced SAPIEN 3 Ultra system features enhancements on the valve and a new delivery system to address the needs of both patients and clinicians, building on our best-in-class performance of SAPIEN 3 to further advance and improve patient care," said Larry L. Wood, Edwards' corporate vice president, transcatheter heart valves. "We look forward to introducing the SAPIEN 3 Ultra system to U.S. patients."
The SAPIEN 3 Ultra system builds on Edwards' decades of engineering and experience in the development of tissue heart valves, and the proven benefits of the Edwards SAPIEN valves.
"The Edwards SAPIEN 3 Ultra system provides meaningful technology improvements that help further optimize the transcatheter aortic valve replacement procedure, adding simplicity and advancing patient care," said John Webb, MD, of St. Paul's Hospital in Vancouver, in a press release from Edwards.
The device was cleared for use in Europe in November for severe, symptomatic aortic stenosis patients. However, a patent dispute with CoreValve maker Boston Scientific has prevented launch in Germany.
The prior generation of Sapien 3 device was approved in 2015. The original Sapien valve was first approved in 2011.