FDA approves first non invasive test for diagnosing concussion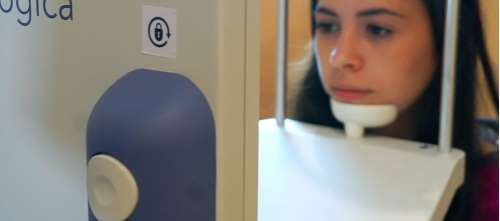 The Food and Drug Administration (FDA) has granted marketing permission for first non-invasive, baseline-free aid in diagnosis of concussion.EyeBOX (Oculogica),is easy to use test that collects and analyzes over 100,000 data points to generate an objective assessment that is unique to each patient.It can be used as aids in the diagnosis of concussion in patients 5 to 67 years of age.
Oculogica plans to market the device for use in pediatrics ages 5 and older and adults up to 67 years of age, starting with a pilot launch for select, qualified sites. EyeBOX uses eye-tracking to provide objective information to aid in assessment of patients with suspected concussion via an easy to take, 4-minute test. A binocular camera then tracks each eye and gathers data that ultimately leads to a score that rates the severity of brain injury; a score ≥10 is Oculogica's threshold for concussion.
The FDA approval was supported by results from the DETECT clinical study which included 282 patients with suspected traumatic brain injury. Results showed that compared with a clinical reference standard for concussion, EyeBox had high sensitivity to the presence of concussion; a negative result was consistent with a lack of concussion.
Oculogica's extensive clinical research and validation have shown we can provide an objective assessment to healthcare providers when evaluating patients with suspected mild traumatic brain injury," said Rosina Samadani, Ph.D., CEO of Oculogica. "We are thrilled to receive marketing authorization from FDA for the first non-invasive, baseline-free aid in diagnosis of concussion. This field is a challenging one. Several key aspects of a diagnostic have thus far eluded researchers. Before now, concussion assessments have relied on subjective measures or baseline testing. This authorization by FDA is a significant milestone for the company and, more importantly, heralds a new era for concussion diagnosis and management for patients and healthcare practitioners."
"This is an important achievement for the field, which has had to work with the lack of objective measures until now. The EyeBOX as part of an objective, multimodal assessment will eventually be the new state of the art, which will be an important advance for patients," stated Dr. Christina Master, professor of clinical pediatrics at the University of Pennsylvania and attending physician at the Children's Hospital of Philadelphia.
Eye-tracking will change the practice of emergency care for concussion and will greatly assist a large number of patients," said Dr Robert Spinner, Chair of the Department of Neurological surgery at Mayo Clinic. "The result will be more consistent and objective diagnoses of concussion in the emergency room and clinic, and eventually on the field."