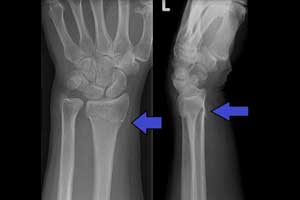 The U.S. Food and Drug Administration gave green signal to a diagnosis software based on artificial intelligence (AI) to detect wrist fractures in adult patients.
OsteoDetect is a type of computer-aided detection and diagnosis software designed to detect wrist fractures in adult patients. This software can help to detect wrist fractures more quickly and aid in the diagnosis of fractures.
It is a computer-aided detection and diagnostic software that uses an artificial intelligence algorithm to analyze two-dimensional X-ray images for signs of distal radius fracture, a common type of wrist fracture. The software marks the location of the fracture on the image to aid the provider in detection and diagnosis.
OsteoDetect analyzes wrist radiographs using machine learning techniques to identify and highlight regions of distal radius fracture during the review of posterior-anterior (front and back) and medial-lateral (sides) X-ray images of adult wrists.
A retrospective study compared the accuracy of fracture localization with OsteoDetect vs 3 board certified hand orthopedic hand surgeons for 1000 radiograph images; another retrospective study included 24 providers reviewing 200 patient cases. Both studies showed that the readers' ability to detect wrist fractures was improved by using the software as evident by greater sensitivity, specificity, and positive and negative predictive values, compared with unaided standard clinical practice.
Artificial intelligence algorithms have tremendous potential to help healthcare providers diagnose and treat medical conditions," said Robert Ochs, acting deputy director for radiological health, FDA's Center. He added, "This software can help providers detect wrist fractures more quickly and aid in the diagnosis of fractures."
OsteoDetect is intended to be used by clinicians in various settings, including primary care, emergency medicine, urgent care and specialty care, such as orthopedics.
The FDA granted marketing authorization of the OsteoDetect device to Imagen. The FDA reviewed the OsteoDetect device through the De Novo premarket review pathway, a regulatory pathway for some low to moderate risk devices of a new type.OsteoDetect is not intended to replace a clinician's review of the radiograph or clinical judgment.