FDA Alert for Blindness Risk From Compounded Vancomycin Eye Injections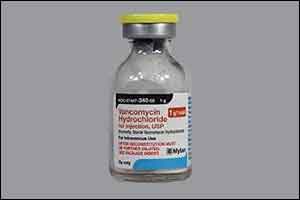 Many ophthalmologists use intraocular vancomycin during cataract surgery with the intent of preventing postoperative endophthalmitis. FDA is unaware of any adequately controlled studies demonstrating the safety and efficacy of intraocular vancomycin in preventing endophthalmitis. There is no FDA-approved vancomycin formulation for intraocular injection. The formulation is usually prepared at the surgical site or obtained in advance of surgery from a compounding pharmacy.
FDA issued a Compounding Risk Alert concerning an adverse event associated with compounded triamcinolone, moxifloxacin and vancomycin (TMV) for intraocular injection. The FDA received an adverse event report on Aug. 14, 2017, from a physician concerning a patient who was diagnosed postoperatively with bilateral hemorrhagic occlusive retinal vasculitis (HORV), which is a rare, potentially blinding postoperative complication that has been observed in dozens of patients who have received intraocular injections of vancomycin (anti-infective) formulations toward the end of otherwise uncomplicated cataract surgeries. On Sept. 28, 2017, the agency approved a supplemental new drug application that adds a subsection about HORV to the WARNINGS section of the prescribing information in the labeling of the FDA approved Vancomycin Injection, USP.
This is the third emerging safety issue that the FDA has reported using a Compounding Risk Alert. The FDA previously warned of adverse events associated with compounded triamcinolone and moxifloxacin product for intravitreal injection and of two serious adverse events associated with compounded curcumin emulsion product for injection. Although compounded drugs can serve an important medical need, they have not been reviewed by the FDA for safety, effectiveness or quality. The information provided in compounding risk alerts is intended to alert healthcare professionals of adverse event reports related to compounded drugs and further the FDA's goal of protecting patients from unsafe, ineffective and poor quality compounded drugs.
The prophylactic use of intraocular vancomycin, alone or in a compounded drug combining multiple active ingredients, during cataract surgery is generally not recommended because of the risk of HORV.
For more details click on the link :
https://www.fda.gov/Drugs/GuidanceComplianceRegulatoryInformation/PharmacyCompounding/ucm578514.htm