Factors beneficial for heart, also prevent diabetes: Diabetologia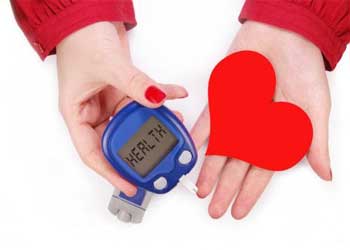 USA: Health and lifestyle factors that are beneficial for the heart can also prevent diabetes, according to a new study published in the journal Diabetologia.
Joshua J. Joseph, Division of Endocrinology, Diabetes and Metabolism, The Ohio State University Wexner Medical Center, Columbus, USA, and colleagues conducted this study to determine whether the association between ideal cardiovascular health (CVH) and lower diabetes risk is similar across glycaemic levels (normal [<5.6 mmol/l] vs impaired fasting glucose [IFG] [5.6–6.9 mmol/l]).
The research team assessed diabetes among 7,758 participants in the REasons for Geographic and Racial Differences in Stroke (REGARDS) Study and used the American Heart Association's Life's Simple 7 as a guide for measuring heart health among the group.
The Life's Simple 7 health factors and lifestyle behaviors that are associated with cardiovascular health are physical activity, diet, weight, cholesterol, blood pressure, blood glucose, and tobacco use.
Also Read:
Common Diabetes drug found effective in heart
failure
Key Findings:


Among participants (mean age 63.0 [SD 8.4] years, 56% female, 73% white, 27% African-American), there were 891 incident diabetes cases.


6004 participants with ≥4 vs 0–1 ideal CVH components with normal fasting glucose had 80% lower risk, while 1754 participants with baseline IFG had a 13% lower risk.


The magnitude of the association of ideal CVH components with lower diabetes risk was stronger among white than African-American participants.


Also Read: Late night waking increases risk of Diabetes, heart diseases
"What's interesting is when we compared people who had normal blood glucose and those who already had impaired blood glucose," Joseph said. "Those in normal levels who attained four or more guideline factors had an 80 percent lower risk of developing diabetes. Those who were already diabetic or prediabetic and met four of the factors had no change in lowering their risk for diabetes."
Joseph said this research proves using prevention strategies from the very beginning is key to helping Americans avoid diabetes.
"Healthy people need to work to stay healthy. Follow the guidelines. Don't proceed to high blood sugar and then worry about stopping diabetes. By that point, people need high-intensity interventions that focus on physical activity and diet to promote weight loss and, possibly, medications to lower the risk of diabetes," Joseph said.
"We don't wait for people to come to us as patients. We're very engaged in taking our work from the lab and applying it to our populations so we can help keep our communities healthy," Joseph said.
"A higher number of ideal CVH components was associated with a dose-dependent lower risk of diabetes for participants with normal fasting glucose but not IFG, concluded the authors, adding that, "Tailored efforts that take into account observed differences by race and glycaemic level are needed for the primordial prevention of diabetes."
For further reference log on to https://doi.org/10.1007/s00125-018-4792-y