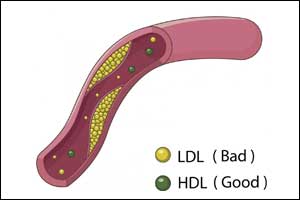 Lipid-lowering drug combination ezetimibe with atorvastatin results in better outcomes than atorvastatin therapy alone, according to a review published in the journal Lipids in Health and Disease.
Although many previous studies have reported the efficacy of the combination versus monotherapy in lowering the levels of blood lipid, the conclusions have been controversial.
Jingpu Shi, The First Affiliated Hospital, China Medical University, Liaoning, China and colleagues conducted the systematic review and meta-analysis compared 4 dose groups commonly used in clinics ezetimibe (10 mg) + atorvastatin (10 mg) vs atorvastatin monotherapy (10 and 20 mg), ezetimibe (10 mg) + atorvastatin (20 mg) vs. atorvastatin (40 mg) and ezetimibe (10 mg) + atorvastatin (40 mg) vs atorvastatin (80 mg) therapies.
Also Read: Lipid lowering agents reduce incidence and progression of diabetic retinopathy
Key Findings:
Combination therapy with ezetimibe+ atorvastatin vs atorvastatin monotherapy led to significant reduction in serum levels of low-density lipoprotein cholesterol (mean difference [MD], − 15.38), total cholesterol (MD, − 9.51) and triglycerides (MD, − 6.42), (P <.0001 for all).

The combination therapy was favored over monotherapy in raising the high-density lipoprotein cholesterol (MD, 0.95; P=.002) levels.

The efficacy of the comparison on HDL-C was largely significant for the different doses.
Sensitivity analysis confirmed that the results remained relatively stable by excluding individual studies.
No significant publication bias was detected in the low-density lipoprotein dose group (P=.149).
The authors say, "The findings showed that overall efficacy and subgroup efficacy of ezetimibe and atorvastatin combination therapy was significantly better than atorvastatin monotherapy in lowering LDL-C, TC and TG level and significantly increased HDL-C. The combination therapy can complement the regulation of lipid levels and can get a better effect in lipid-lowering."
Significance of lipid-lowering for heart patients
The consequences of atherosclerotic disease in the carotid arteries and coronary arteries are serious in human. Patients with atherosclerotic disease are at high risk of cardiovascular and cerebrovascular diseases. Large primary and secondary prevention studies of statins have shown conclusively that lowering low-density lipoprotein cholesterol (LDL-C), Total Cholesterol (TC) and Triglyceride (TG) levels or raising high-density lipoprotein cholesterol (HDL-C) levels reduces cardiovascular events.