"Extracapsular Cystic" Sign identifies pancreatic serous cystic neoplasms: Dr Niharika Prasad
Serous cystic neoplasms (SCNs) are benign cystic neoplasms of pancreas accounting for ~ 16% of cystic lesions of the pancreas. The typical appearance consists of a cluster/honeycomb of cysts with a central scar and punctate calcifications. They need to be differentiated from mucinous cystic neoplasms and intraductal papillary mucinous neoplasms. This is because the latter are potentially malignant and need treatment. SCNs, on the other hand, are best left alone and don't need surgery. Macrocystis and mixed variety of atypical SCNs can pose as mimics to these pathologies.
A recent retrospective study of 177 patients with cystic pancreatic lesions in China discovered a new sign which potentially enables one to differentiate serous cystic neoplasms (SCNs) from other pancreatic cystic lesions.
The contrast-enhanced CT (computed tomography)/MR (magnetic resonance) images of patients who underwent surgical resection of cystic pancreatic lesions in a period of 4-6 years were analysed by two different radiologists. Arterial, portal venous, equilibrium and delayed phase images were analysed. Out of all patients, twenty-one showed a positive extracapsular cystic sign, out of which, the majority of included cases consisted of SCNs.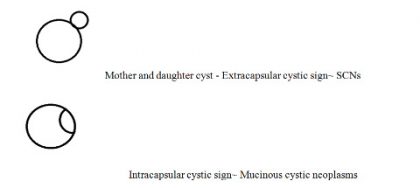 Most of the lesions were in pancreatic body and tail. The ratio of size of biggest daughter cyst to mother cyst and the angle between the two were also calculated.
This new sign mentioned by authors, however, cannot be applied to solid and unilocular cystic serous cystadenoma which remain a diagnostic difficulty.
Endoscopic ultrasound is another alternative to provide clear images when in doubt. Cyst fluid aspiration is another method in which raised CEA (carcinoembryonic antigen) and CA (cancer antigen) indicate mucinous cystic lesions. Pancreatic pseudocyst can be differentiated by the absence of enhancing mural nodules, features of pancreatitis and communication with pancreatic duct. Intraductal papillary mucinous neoplasms are the most commonly resected cystic pancreatic neoplasms characterized by dilated segments of the main pancreatic duct and/or side branches. Endoscopic ultrasound with the use of fine-needle aspiration and cytology can let one differentiate between cystic pancreatic lesions.
According to the latest AGA guidelines, if dilated main pancreatic duct and /or cyst >3cm and further endoscopic ultrasound findings show dysplasia then surgery is indicated. However, if no suspicious features are found on initial MRI/MRCP workup, then only yearly follow up is sufficient.
The author is MD (Radiodiagnosis) and is Senior Resident, Dept of Radiology in All India Institute of Medical Sciences, AIIMS Patna. She is a member Editorial Board, Radiology at Specialty Medical Dialogues.