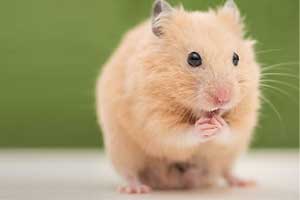 Mothers exposed to pet hamster during pregnancy were more likely to have offsprings with type 1 diabetes (T1D) vs mothers who did not have a hamster in the home during pregnancy, finds a new study.
This unusual correlation was made by Swedish researchers in the journal Paediatric Diabetes, who thought that hamsters may carry certain viruses that may impact the risk of T1D.
As viruses may be hosted by animals and from them transferred to humans. Åshild Olsen Faresjö and  Johnny Ludvigsson, researchers from Linköping University, Linköping, Sweden, conducted the study to investigate if exposure to pets during pregnancy is related to the development of T1D later.
The research doesn't necessarily mean that families who own hamsters should rehome the pet because correlation studies cannot indicate a cause. However, the research adds to other studies linking viruses transmitted by animals to T1D. Last year, the 2009 swine flu outbreak was linked to increasing type 1 diabetes rates in Norway.
The study involved the collection of health data from more than 16,000 parents who had their children born in the late 1990s. The researchers looked at the number of children who later developed T1D and the pets owned by their parents when pregnant, this was done taking into consideration the diabetes family history.
During pregnancy, 45.5% of the mothers had pet animals at home. Most common were cats (25.0%) and dogs (18.7%).
Also Read: Obesity and Diabetes in Pregnancy Hastens Early Foetus Growth
Key Findings:
Neither exposure to dogs (OR= 1.27, p=0.23) or cats (OR= 0.81, p=0.31) were associated to later T1D risks.
Five children out of 150 families who had kept a hamster during pregnancy had been diagnosed with T1D. This meant the chances of developing the condition was four times greater than average.
Exposure to hamsters increased the T1D risk. In a multiple regression, this association remained (p=0.005) when adjusted for other possible risk factors.
The researchers note that many other cases of type 1 diabetes occurred without hamsters being linked, adding "As only a small minority of the mothers, whose children later developed T1D, had a hamster during the pregnancy, this factor cannot be regarded as a common causal factor."

"Exposure to hamster during pregnancy may increase the risk of T1D in the child. One possibility could be infection by virus hosted by the pet. More research must be carried out before experts can definitely say that being exposed to hamsters is unsafe during pregnancy," concluded the authors.
For further information log on to https://doi.org/10.1111/pedi.12721