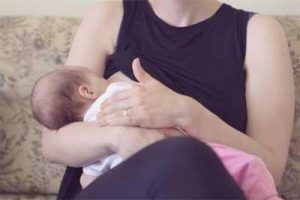 Exposure of infants to alcohol through breastmilk may lower their cognition score by age 6, according to a study recently published in the journal Pediatrics.
Previous studies have shown that prenatal alcohol and nicotine exposure is associated with reduced cognition in children. Louisa Gibson and Melanie Porter conducted a study to examine whether drinking or smoking while breastfeeding lowers children's cognitive scores. The study holds importance as it is the first study to directly examine cognitive outcomes in relation to lactational alcohol and nicotine exposure.
The observational study included 5107 participants who were assessed every 2 years. Roughly 4700 of these infants were ever breastfed. Mothers were asked about their alcohol intake during breastfeeding.
Read Also: Proteins in breastmilk protect offspring against food allergy
Key Findings:
Greater or riskier maternal alcohol intake was associated with decreased nonverbal reasoning at 6 to 7 years in a dose-dependent manner.
The association was independent of prenatal alcohol consumption, sex, child, and maternal age, income, birth weight, breastfeeding duration, learning delay, head injury, and pregnancy and breastfeeding tobacco smoking.
In children who had been breastfed at any time, however, this association remained statistically significant after adjustment.
There was no relationship between maternal alcohol consumption and Matrix Reasoning scores in infants who had never breastfed.
However, the study suffered from the limitation that the frequency and quantity of milk consumed by infants were not recorded, nor was the timing of alcohol consumption or the amount of ethanol in breastmilk.
The study concluded that increased or riskier maternal alcohol consumption during lactation was associated with dose-dependent reductions in abstract reasoning at age 6 to 7 years. However, this relationship was not observed in infants who had never breastfed, suggesting a direct relationship between alcohol exposure through breastmilk and decreased cognition. Further, the association was not evident at ages 8 to 11 years, which may relate to increased education in older children.
For more reference log on to http://pediatrics.aappublications.org/content/early/2018/07/26/peds.2017-4266#T1