Exercise lowers blood sugar and may help prevent diabetes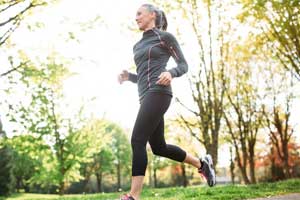 Exercise and enhanced physical activity may lower blood sugar and help prevent diabetes.
Higher is the exercise level and physical activity lower will be your blood sugar levels -- is the gist of a recent study published in the Journal of Diabetes Investigation. This study further affirms the association between physical inactivity and increased risk of type 2 diabetes.
The study found that this association between a higher degree of physical activity and lower blood sugar is independent of menopause status, sex, and first‐degree family history of diabetes.
Exercise training is a recognized strategy central to the prevention, treatment, and management of diabetes and prediabetes. Aerobic exercise makes your heart and bones strong, relieves stress and improves blood circulation.
A complete exercise routine includes four kinds of activities:


Continuous activity—walking, using the stairs, moving around—throughout the day


Aerobic exercises, such as brisk walking, swimming, or dancing


Strength training, like lifting light weights


Flexibility exercises, such as stretching


Dr Xiang Hu, First Affiliated Hospital of Wenzhou Medical University, Zhejiang, China, and colleagues conducted the study to investigate the association between physical activity and blood sugar, as well as the influence of sex, menopause status, and family history of diabetes.
Also Read: Resistance Training Exercises reduce blood sugar and risk of diabetes
For the analysis, the researchers enrolled 2601 normal weight individuals (average age of 57.85 ± 8.39 years) from REACTION study. They then divided them into three groups:


inactive (moderate‐to‐vigorous‐intensity physical activity [MVPA] < 30 min/week),


low‐degree (MVPA ≥ 30 and ≤ 420 min/week); and


high‐degree (MVPA > 420 min/week) active groups.


They found that:


After adjustment for sex & menopause status and family history of diabetes respectively, fasting plasma glucose (FPG), 2‐hour plasma glucose (2hPG), and glycated hemoglobin A1c (HbA1c) decreased through inactive, low‐degree and high‐degree active groups.


The association of blood glucose indexes with physical activity was independent of this association with sex & menopause status and first‐degree family history of diabetes, respectively.


MVPA was an independent factor associated negatively with FPG, 2hPG, and HbA1c, respectively.


Also Read: A new pattern of physical activity to aid in type 2 diabetes
Several mechanisms underlie the association between blood glucose and physical activity. "First, physical activity was capable of increasing energy consumption, reducing the onset of obesity, which was an independent risk factor for abnormal blood glucose. Second, physical activity-activated the glucose transporter 4 to transfer to the surface of the muscle cells, leading an increase in uptake of skeletal muscle glucose and improvement of the patients' insulin resistance," explain the authors.
Based on the study, the authors strongly recommended physical activity with adequate time and intensity to individuals with familial and sexual susceptibility to diabetes but without overweight/obesity.
"Future study should be performed to investigate the associations among diabetes, insulin resistance, central obesity, physical activity, and muscle mass in individuals with a healthy weight," concluded the authors.
For detailed research log on to
https://doi.org/10.1111/jdi.13062
Source : With inputs from Journal of Diabetes Investigation